VG New Trend present Arabesque Collection at Light + Building 2016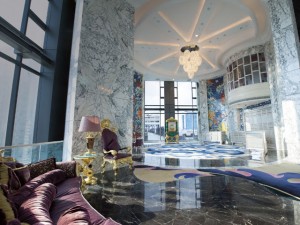 The Arabesque collection is perfect for the creation of striking coordinated interior design schemes with strong aesthetic and emotional impact. Versatile, always sophisticated and immediately recognizable, Arabesque is ideal for bringing a discreet beauty to minimalist, contemporary settings.
Majestic, powerful, but at the same time sinuous, Arabesque Lightfall EGG is the perfect chandelier for large and luxurious spaces. The drop in chromed steel, enriched by inserts in crystal Asfour has become a genuinely iconic piece. To meet the most widely varying market demands, VG New Trend proposes it in a variety of sizes and finishes. It is available in 24KT Gold, Corten, Black Nickel, Bronze, 24KT Gold Saten, and Copper.
VG also previewed Arabesque ceiling lights collection. The new collection gives a a great visual effect. They amaze and create atmosphere, becoming reference items in the interior design world. The Arabesque Earth LED lamp is made up of steel and Asfour crystals. It can be used both as a ceiling lamp and as wall lamp. The lamps are available with several shape options that characterize style and efficiency.
Source:
http://www.furniture-magazine.com/news/article/vg-new-trend-present-arabesque-collection-light-building-2016/