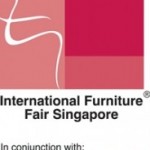 With a few months to go, preparations for the International Furniture Fair Singapore 2015/32nd ASEAN Furniture Show (IFFS/AFS 2015), The Décor Show, and Hospitality 360° are well underway. Pre-registration for the show is open from now till the end of February 2015 and more than 1,500 industry professionals have already registered for complimentary access. Returning to Singapore EXPO from 13 – 16 March 2015, the trilogy of design-led events will occupy interconnected Halls 1 through 6, and visitors can expect to enjoy a seamless experience while browsing the comprehensive range of furniture presented by a diverse portfolio of quality exhibitors.
"The show's primary objective has been to facilitate conversations and create business opportunities between manufacturers and designers, distributors, retailers, and hoteliers," expressed Mr Ernie Koh, Chairman of IFFS. He added, "Each year, the team endeavours to make the event even better and more relevant for all attendees. And for 2015, buyers can look forward to a wider offering with the addition of exhibitors from two new countries, while those seeking inspiration can keep their eyes peeled for our brand new SingaPlural Design Hall."
As Asia's leading sourcing platform, IFFS promises to be a truly international event that features the best of furniture and furnishing products from prominent manufacturers across the globe. This time, the show trio boasts a total of 12 country pavilions – including Belgium, China, France, Hong Kong, India, Indonesia, Malaysia, The Philippines, Singapore, Taiwan, Thailand, and Vietnam – as well as new representation from Portugal and Turkey, bringing the total country count to 28.
As IFFS evolves and matures, it stays true to its calling to meld 'design' with the furniture business. In all these years, design has been and remains the focus of the event's plans and execution, providing direction and injecting life to the show each year. While the show traditionally devotes an entire gallery to design, audiences can expect a novel approach to celebrating design at IFFS 2015.
For one, George Soo of FLIQ will curate a thematic showcase of carefully selected pieces taken from collections that will be presented by a group of 10 crème-de-la-crème exhibitors from the SingaPlural Design Hall. Located in Hall 1, this installation will give visitors a sneak peek of the exclusive designs offered by notable companies, including d-Bodhi (Singapore), Far East Furniture (The Philippines), Resource Décor (Hong Kong), HALO (Hong Kong), Woven+ (The Netherlands), Sharda Exports (India), Tropical Outdoor (Hong Kong), and Umbrosa NV (Belgium). Also worth anticipating at IFFS 2015 are two light installations exclusively crafted for the show. Through the clever use of innovative printed lighting technology, Singapore designers Kenny Hong of 11H and Andre Tan of XOPO will each present their unique creations at various locations, enhancing the show experience for attendees.
Source:
http://www.furniture-magazine.com/news/article/iffs-2015-expands-horizons-shines-spotlight-design/