8th December, the new library of Hubei province is officially opened. As reported, this new library has been invested RMB 0.78 billion by finance department of Hubei province. It is located on south riverbank of Shahu river covering area of 65000 square meters. With 8 floors above the ground and 2 floors under ground the total construction area of the building is about 0.1 million square meters. At present, it is the largest province level library in China as well as the biggest cultural infrastructure construction project in Hubei province.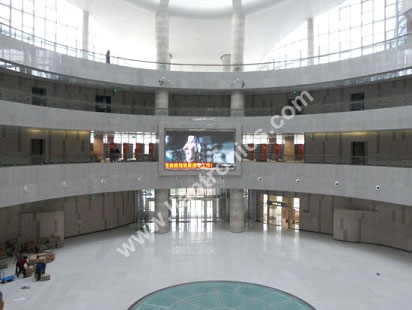 On the date of opening ceremony, the two LED displays inside the library attracted most people's attention. They are built by Liantronics with PH5 3in1 indoor LED display products. One of them with area of 23.962 square meters is a moving display which is fixed with wheels on the bottom. The other display is installed on the wall between second floor and third floor and directly faces to the visitors.
These two LED displays were successfully lit up before opening of the library. With vivid images, rich colour and concise and vogue shape, these LED display perfectly combined with the library and make great improvement for library image as well as convenience for the readers and visitors.
Source:
http://www.led-search.com/news-view-1310.html