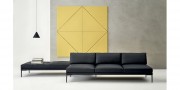 Steeve by Arper wins Architizer A+ Award
The Architizer A+ Award is the largest awards program focused on promoting and celebrating the year's best architecture and products.
Designed by Jean-Marie Massaud, Steeve is the Architizer A+ Award Jury Winner for the product category Furniture: Seating – Contract.
A modern, modular system imagined for the refined home or work environment, Steeve is customizable in a wide range of fabrics, leathers and finishes. Steeve's three versatile components – bench, armchair and sofa and relative modules – can be arranged to accommodate any interior space allowing for countless configurations.
The Architizer A+ Jury Winner is selected by an illustrious jury, comprising equal parts architects and designers, cultural thought leaders and developers, such industry luminaries as Denise Scott Brown, Bjarke Ingels and Tom Kundig, as well as personalities from beyond architecture like Tony Hsieh (CEO, Zappos), Yves Behar (Fuseproject), John Edelman (CEO, Design Within Reach), Cameron Sinclair (Architecture for Humanity) and Barry Bergdoll (MoMA).
All winners will be presented during the A+ Awards Gala on May 12th, 2016.
Source:
http://www.furniture-magazine.com/news/article/steeve-arper-wins-architizer-award/