The Corolle collection by Sebastian Herkner for Verreum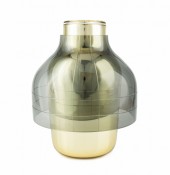 The real matter of a vase is its contents. Sebastian Herkner has designed the Corolle vase with this principle in mind.
The tinted and silvered glass layerings of Corolle refer to the petals forming the dress of the flower. Materials or techniques combinations have always been prominent in Herkner's works, and the Corolle collection shows in very few elements the capacities of the glass. The usual transparency becomes opaque where the pattern appears while the colors overlap and reflect on each other.
Thus Corolle can be also contemplated without a bouquet. The Prague-based glass manufacturing brand, Verreum is producing the project.
Source:
http://www.furniture-magazine.com/news/article/corolle-collection-sebastian-herkner-verreum/