iF Gold Award awarded to Hideout Lounge Chair
The Hideout lounge chair has been awarded the 2016 iF Gold Award, one of the most prestigious international design awards for over 60 years. This prize is assigned each year to the best projects in the product, packaging, communication, architecture, and interior categories.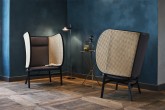 The originality of Hideout lies behind the creative collaboration of Gebrüder Thonet Vienna GmbH (GTV) with the Swedish trio Front. This design is a testament to GTV's ability to take its trademark features and re-interpret them through relentless project research and its foresightedness in collaborating with designers such as Front who value research, making it one of the distinctive features of their creative process.
The Hideout lounge chair combines comfort and design and features a lacquered steam-bent solid beech square structure, enriched by a large, comfortable seat. The seat and the central part of the backrest are both upholstered. The chair is a wide embrace, ascending upwards with woven caned features, and is defined by the rounded profile of its armrests which protrude over the seat. Hideout is an enveloping, intimate space which confers unique elegance.
This latest accolade attests the high quality of GTV's most recent collections, the brand's passion for research in design, and its pursuit of innovation on the tracks laid by tradition.
Source:
http://www.furniture-magazine.com/news/article/gold-award-awarded-hideout-lounge-chair/