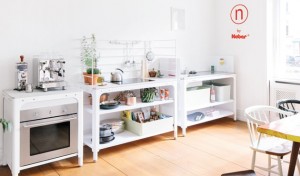 Naber Brings a new concept of kitchen as it believes that kitchen no longer needs to be tied to a given room. The Concept Kitchen by Kilian Schindler for Naber allows to assemble very own personal cooking workshop wherever you want it. Start with a few modules and expand it later. Combine it with existing items of furniture, your tried-and-true stove or your fridge. And your kitchen can go mobile—inside your apartment or house, when relocating or outside the house.
Each module can be taken apart without the use of tools and thanks to the excellent quality of the materials can be reassembled at will. The kitchen travels with you into the garden or to your cooking event.
Use the configurator on the Naber Concept Kitchen Website to enjoy visualizing in 3D just what you want your kitchen to look like—choose from six basic modules and the fittings that best suit you to assemble your very own Concept Kitchen world.
Source:
http://www.furniture-magazine.com/news/article/movable-kitchen-unveiled-naber/