The US Department of Energy announced $150 million in tax credits with Cree and Osram Sylvania winning awards for expansion of US-based manufacturing, while Philips Lighting and Toshiba announce new LED retrofit lamps.
Cree and Osram Sylvania have received tax credits from the US Department of Energy (DOE) as part of the $150 million 48C Phase II Advanced Energy Manufacturing Tax Credit Program that was initiated under the American Recovery and Reinvestment Act of 2009 (ARRA). Philips Lighting has announced a new 60W-equivalent LED retrofit lamp that's due at Home Depot January 2, 2014 and that could be priced under $10. Meanwhile, Toshiba announced a BR40 directional solid-state lighting (SSL) product designed as a direct replacement for 90W incandescent bulbs.
Tax credits
The tax credit program was funded at $2.3 billion originally and 183 US manufacturers received 30% investment tax credits, enabling expansion of clean-energy manufacturing facilities. The latest phase awarded credits that went unused in that initial round. Cree received a tax credit of $30 million. The DOE did not specify the level of the Osram Sylvania award, but given that the DOE supplied a total and all of the other award levels, it appears the Osram award was $1.6 million. The credits range $700,000 to $30 million.
The tax credits went to 12 companies that span a broad set of industries including major auto makers General Motors and Ford. The Cree and Osram Sylvania credits are both aimed at the LED lighting space.
Cree will use the credit to expand manufacturing at both its Durham, North Carolina and Racine, Wisconsin facilities. The DOE specifically said that the award will enable Cree to install new machinery capable of manufacturing 304 million SSL systems. It's unclear if that is an annual figure or not, but the magnitude of the number makes it clear that the credit will be used for expansion of facilities for both LED-based retrofit lamps and integral luminaires.
The credits for Osram Sylvania are tied to LED-based automotive headlamps. Osram said its single-point LED low/high-beam projectors reduce energy usage by 70% relative to legacy sources.
Retrofit lamps
Moving to the retrofit lamps space, the imaginative range of concepts behind LED-based products continues to expand. Philips Lighting has introduced the new SlimStyle lamps that looks something akin to a doughnut sitting atop an Edison base, although the center area of the lamp design is flat where the doughnut hole would be located.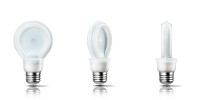 Philips had said back in the spring that it would deliver a 60W-equivalent lamp this year at a sub-$10 price point. The company has yet to reveal the price of the new lamp, but we expect it below $10. And Philips has submitted the lamp for Energy Star certification so with rebates the lamp could cross below the $5 mark.
The SlimStyle lamp marks the first time that the company has used mid-power LEDs in an A-lamp. The company only brought the Philips Lumileds Luxeon mid-power family to market in April 2012. We have a more detailed article on the new LED lamp on our Illumination in Focus website.
The new Toshiba BR40 lamps deliver 1330 lm in 2700K warm-white CCT and 1400 lm in a 4000K CCT. The 20W lamps achieve efficacy up to 70 lm/W and Toshiba said they offer 79% energy savings relative to incandescent lamps.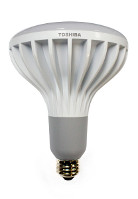 The products are dimmable and have a power factor of 0.96. Energy Star certification is underway. Earlier Toshiba won Energy Star approval with a similar lamp designed to replace 65W incandescent bulbs.
About the Author Maury Wright is editor of LEDs Magazine and Illumination in Focus.
Source:
http://ledsmagazine.com/news/10/12/13