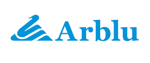 Time introduced by Arblu is the new space-saving shower box which adapts to any type of space. The new shower box has a total opening system, both internally and externally, which allows access to the shower tray from the corner; in fact, the doors, which fold onto themselves, open up with a single gesture and gather towards the wall. Time is also ideal for open wall solutions for locations such as locker rooms or spas, for it allows one to make the most out of space occupied by showers. A simple gesture enables the closing of the box, giving way to a cosy and intimate space.
Time is also available in another version, designed with the focus on problems of disability, which is characterised by the division of the door in two parts, allowing the partial opening of the upper or lower part. The proposition is complete with a number of furnishing accessories, such as support handles, flush with the floor shower trays which, combined with the completely openable boxes, allow easy access to the shower. Time is a shower box with an aluminium frame, 190 cm in height and available in a white finish. It has a magnetic closure and can have 2 or 3 folding doors. Time means total flexibility.
Virgo is an elegant shower box with a frame, 190 cm in height and linear shapes that stand out for the attention to detail; in fact, a unique diamond-cut enhances the fixtures and the "V" handle, where one will find the silk-screen printed Arblu brand.
The new shower box conceals its mechanisms behind solutions of extreme elegance, such as the perfect closing of the doors with the magnetic fixture, detachable carriages for an easy cleaning of the surface and a thin transparent seal that allows excellent water tightness. In addition, its versatility allows the creation of several solutions: in the corner with 2 sliding doors or recess with sliding doors, pivot, saloon or pleated. Furthermore, Virgo is also available in special versions thanks to the possibility of inserting an additional side. The tempered glass, 6 mm thick, is available in satin, feathered or transparent finishes.
Source:
http://www.furniture-magazine.com/news/article/arblu-introduces-time-virgo/