The world's biggest lighting exhibition—17th Guangzhou International Lighting Exhibition 2012 was held in the China Import and Export Fair Complex,Guangzhou,China from 9 to 12 June,2012.This year,the organizer established an Asian LED exhibition area and attracted more than 1800 exhibitors to showcase their products.The Guangzhou International Lighting Exhibition offered a world class industry platform where visitors and exhibitors can gain a comprehensive overview of LED development in both the Asian and global lighting.
Edison Opto,a Taiwanese leading Manufacturer in high power LED market,showcased their latest LED products in brand name hall for Technical lighting.Besides,Edison Opto showcased not only their new HR Series emitter products but also EdiLex Spot Light Module(SLM)and EdiLex Strip Module which are referred to the specifications of Zhaga.By showcasing the latest LED products and the applications of Edison LDMS plan(Lighting Design Manufacturing Service),Edison Opto made customers experience an astonishing array of high power LEDs and SSL(solid state lighting)applications.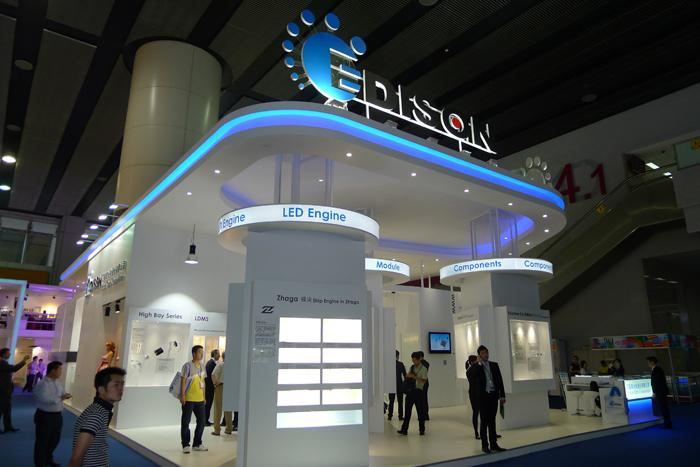 Edison Opto has successfully developed the HR series products which can supply an outstanding performance and present high efficiency up to 130lm/W at all color temperature.Now,EdiPower II HR series and HR module products are available with 1W point light source and 4~50W plane light source.Under the great accomplishment,HR series provide CRI 90 in Cool White,Neutral White and Warm White.In addition,the R9 value is greater than 0 to reach Energy Star requirement.The HR Series offer an excellent light shape by installing with Edison's brilliant optical products,available from narrow to wide beam angles.Due to the innovative technology,the high performance HR Series products allow consumers to establish the component into more fields.LEDs Light bulb,down lights or light tubes will become the major luminaries to be designed with HR Series.
In order to enable the interchangeability of LED light sources made by different manufacturers,Zhaga,which is an industry-wide cooperation between companies,has defined interfaces for a variety of application-specific light engines.Edison Opto has taken the standards of Zhaga into consideration,and introduced the products which are referred to the specifications of Zhaga-EdiLex Spot Light Module(SLM)and EdiLex Strip Module.
EdiLex Spot Light Module(SLM)use EdiPower II 8W~25W which are high brightness LEDs.With specially designed holder and reflector,each EdiLex Spot Light Module(SLM)can be assembled easily into heat sink and lighting fixture,suitable in applications like down lights,truck lights,spot lights,etc.And the EdiLex strip module feature slim design and light weight which are easy to assemble.Besides,the design of EdiLex strip module and the characteristic of high performance make it quick to expand.Therefore,we can use the EdiLex strip module in wall lighting,wall washer and office lighting.At Guangzhou International Lighting Exhibition 2012,customers showed their interests in Zhaga-based products.Hence,Edison Opto will continually develop the products which are referred to the specifications of Zhaga and the products which fit the market demand and environment protection.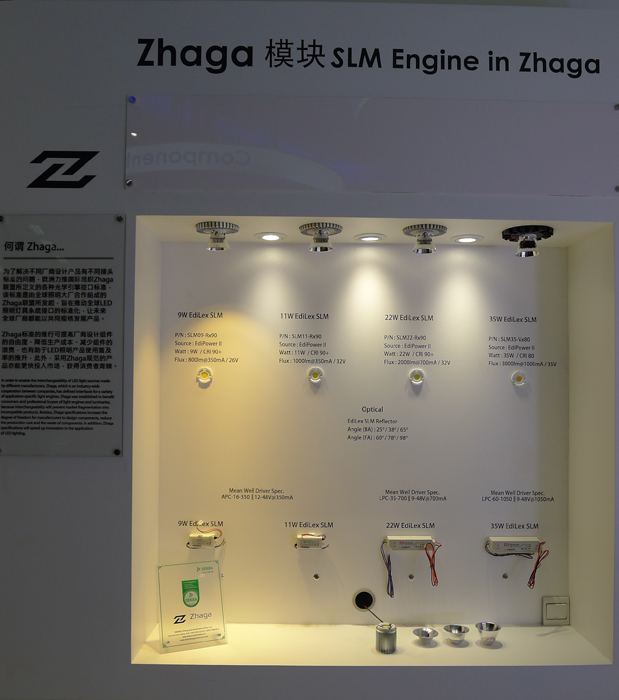 About Edison Opto Edison Opto is a leading manufacturer of high power LED and a solution provider experienced in LDMS.LDMS is an integrated program derived from the four essential technologies in LED lighting applications-Thermal Management,Electrical Scheme,Mechanical Refinement,Optical Optimization,to provide customer with various LED components and modules.
Source:
http://www.ledinside.com/guangzhou_exhibition_20120619