Tokyo-based Toshiba Corp has started shipping samples of an SP10T (single-pole ten-throw) RF antenna switch with a MIPI RFFE interface (the RF front-end interface developed by the MIPI Alliance Inc) that achieves the lowest insertion loss and smallest size in the industry for the smartphone market, it is claimed.
By using TaRF5, a new-generation TarfSOI (Toshiba advanced RF SOI) process using silicon on insulator (SOI) technology. the samples achieve a 25% improvement in insertion loss (f=2.7GHz) and a 40% size reduction compared with products using the TaRF3 process. These improvements can lead to longer battery operating time and smaller mounting space, which can also contribute to smaller sizes for products in which they are used, says Toshiba.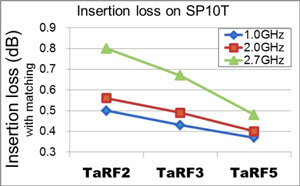 Picture: Insertion loss on Toshiba SP10T RF antenna switches.
Toshiba says that, since developing the SOI-CMOS process for smartphone RF antenna switches in 2009, it has continually developed new-generation processes and devices offering improved performance. With LTE now being implemented worldwide, and LTE-Advanced (an ITU-defined fourth-generation mobile communication standard developed by the 3GPP standard development organization) expected to follow, requirements for RF antenna switches are leaning towards multi-port and complex functions. To meet those market demands, Toshiba plans to continue to develop products with low insertion loss and smaller sizes.
Source:
http://www.semiconductor-today.com/news_items/2013/OCT/TOSHIBA_171013.shtml