Kvadrat is remaking Franco Albini's rare 1940s chair
The new Kvadrat/Raf Simons collection is going to premiere on March 16 in Berlin. The third collection, including three new striped textile designs, is inspired by Modernist furniture, Pop and contemporary art, fashion textiles and music.

Raf Simons took his cue from the strikingly modern nautical upholstery of Franco Albini's Poltrona Seggioviaof 1940 when creating this collection. The Poltrona Seggiovia was originally designed for a temporary exhibition at the Milan Triennale in 1940, entitled Living Room of a Villa. The exhibition was rebuilt by Cosmit for the 1988 Salone del Mobile and the chair has since never been reproduced.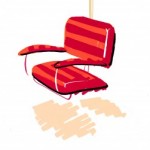 For the launch of the Kvadrat/Raf Simons 2016 collection, Kvadrat has kindly been given permission by the Franco Albini Foundation to remake the chair. It will be on show dressed in striped Kvadrat/Raf Simons textiles at the launch in Berlin next week.
Source:
http://www.furniture-magazine.com/news/article/kvadrat-remaking-franco-albinis-rare-1940s-chair/