ICFF 2011 marked Duravit's official entry into a new category – semi-public Baths. Duravit launched a full range of smart new collections that set the highest commercial standards for efficiency, economy and design. Central to the launch is Onto, a new complete bath collection by Matteo Thun that champions the beauty of economy. Like many of the new Duravit introductions, Onto's design and technical features make it perfect for both residential or semi-public settings.
''Duravit's focus on the semi-public environment merges our high-level of design and quality with code requirements, efficiency of installation, and ease of maintenance that are necessary for commercial applications,'' said Tim Schroeder, president of Duravit USA. ''This strategic move was made in response to demand from design professionals seeking Duravit's signature level of aesthetic appeal for their semi-public and public bathroom projects. Duravit is strongly focused on providing solutions that offer value, functionality and outstanding design for all types of bathrooms.''
HEUs – High Efficiency Urinals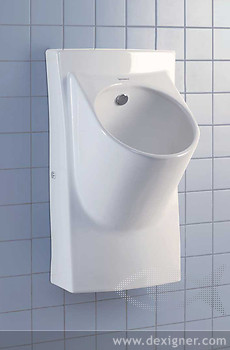 Architec
Duravit is the first manufacturer to receive WaterSense approval for a urinal. The Architec urinal, designed by Professor Frank Huster, is a successful combination of form, function and technological innovation. It features an electronic control system that combines sensor technology with intelligent flushing. Architec can be set at one of three programs, including an ''eco'' program, depending on installation environment and volume.
Utronic
The Utronic urinal's water-saving features and ease of installation make it a perfect match for public and semi-public applications. Utronic flushes automatically after every use, thanks to an electronic ''ntelligent'' control unit developed by Duravit, which is located underneath the hygienically sealed ceramic bowl. This unit detects the user's presence and activates a flush as soon as the user moves away. Additionally, an automatic flush is triggered 12 hours after the last use to maintain cleanliness. Utronic continues to exceed expectations of installers with its simple access for servicing, easy maintenance and user-friendly attributes.
HETs – High Efficiency Toilets
Duravit's offering of wallmounted toilets presents a beautifully diverse and technologically efficient collection of WaterSense toilets. The WaterSense approval of Duravit's wallmounted toilets means that these products comply with the EPA's rigorous performance mandate for High Efficiency Toilets (HET), which is currently 1.28 or less gallons per flush (gpf). Each Duravit wallmounted toilet features dual-flush technology, which allows for an effective 1.1 gpf. In fact, test results show that Duravit bowls perform at even lower averages while maintaining high performance results.
Starck 3
A commercial toilet for semi-public and public applications, the new wallmounted Starck 3 elongated toilet is 24 3/8″ deep and can be used in combination with Duravit's new ADA-compliant open-front toilet seat.
Semi-public/Commercial Washbasins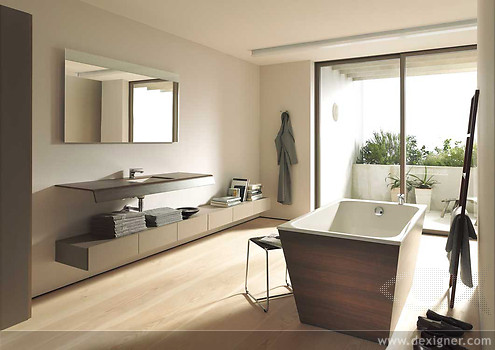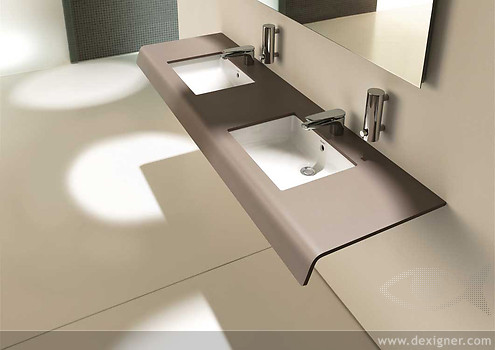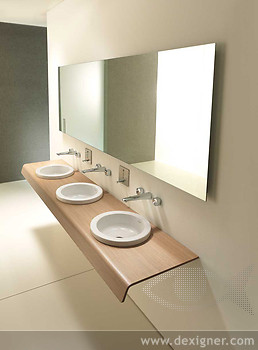 Onto
Designed for Duravit by Matteo Thun, ''Onto'' is a distinctive, avant-garde collection that brings an unlikely material into the bathroom experience: locally sourced wood. In ''Onto,'' bonded, anti-warp and zero-emission plywood is artfully paired with ceramic to create a distinctive collection that offers a total of 16 different types of furniture solutions ideal for both commercial and residential settings.
Vero
It all began with a collection of three stand-alone washbasins, but soon evolved into a complete collection. From the start, Vero was a hit with purists and individualists alike. The basin's clean-cut, classic rectangular shape has made the collection a favorite amongst design enthusiasts both amateur and professional. New to this ever-expanding collection is a spacious 47″ wide double basin.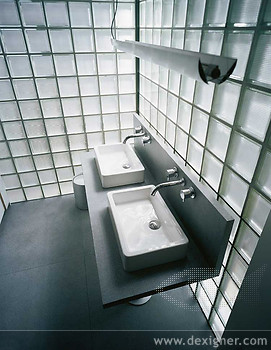 Bacino
Elegant and sculptural, Bacino is available in various shapes and sizes: tall and cylindrical, round, square and with rounded corners. Its versatility means Bacino can make an inspired design statement in nearly any bathroom setting. Bacino's simple, no-fuss forms leave nothing to be desired when it comes to comfort either: the generous bowls are extremely user-friendly and, thanks to their relatively modest dimensions, they are ideal in settings where space is at a premium: small recesses, powder rooms and compact hotel or restaurant bathrooms.
2nd Floor
The 2nd floor concept no longer sees the bathroom as a cold, isolated room, but as an integrated part of the space. Warm wooden elements are a characteristic feature of this collection, with finish options including real woods Ebony and Bleached Oak, Rosewood (decor), and White Lacquer. 2nd Floor's washbasins, tubs and toilets are all available in various sizes to ad versatility to this deep, practical collection.
3,747 impressions – 356 clicks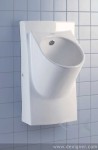 Source:
http://www.lightsmanufacturer.com/2011/06/duravit-brings-high-design-solutions-to-the-semi-public-bath.html