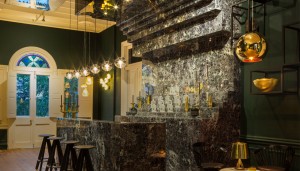 An outstanding creativity on interior design was introduced by Tom Dixon and ALGO. The Peruvian Bar Club is an example of highly appreciable task presented by them who have worked for this project closely over the past six months.
Featuring a selection of their 2014 lighting, furniture and accessory range launched in Milan, the Club installations is situated in the 'Palacete Sousa', a post colonial building restored and renovated for Casa Cor Peru fair. The Club is constructed around a monolithic bar structure that will host the Lima event of the Latin American Tour. The event will see Peruvian barman and Pisco specialist Johnny Schuler serve up a limited editon cocktail alongside a presentation and book signing from Tom.
The installation brings a selection of their latest products to South America for the first time. New lighting in the form of Beat Table, Beat Floor and Gold Mirror Balls sit alongside their new accessories range.
'We are delighted to have had the opportunity to work side by side with the Tom Dixon team in London and New York. Delivering such an exciting environment at this year's Casa Cor Peru interior design event' commented ALGO Director Cecilia Aniya and Aravec Clarke in Peru.
The Club installation is open to the publc and will host the Lima Event of Tom's Latin American Tour.
Source:
http://www.furniture-magazine.com/news/article/peruvian-club-tom-dixon/