Corporate Partner Activation Manager from Chinese Theatres, LLC comments on LianTronics LED Display: The signs are beautiful!
On June 5, 2014, The Los Angeles Historic Theatre Foundation presented the TCL Chinese Theatre in Hollywood with its 2013 "Theatre of the Year" Award.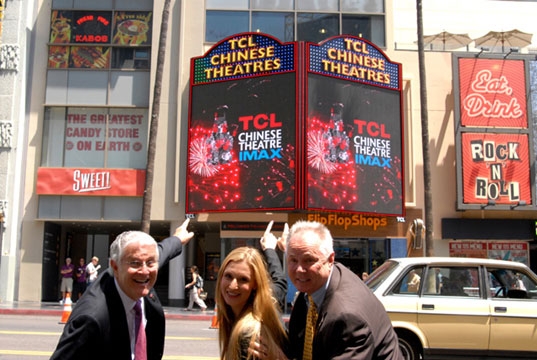 Executives from TCL Chinese Theatre were in joy and excitement to receive this award, and at this time of honor they did not forget to share their happiness with LianTronics whose signs are shining outside TCL Chinese Theatre. Heather Kogler, Corporate Partner Activation Manager from Chinese Theatres, LLC wrote in his letter of thanks: Enjoy and congratulations on such a great achievement! The signs are beautiful!
As the partner of TCL Chinese Theatre, LianTronics is also very delighted to hear the news and feel pleased that FS8 LED display could be part of the big success.
About Liantronics
Shenzhen Liantronics Co., Ltd plays a leading role in LED display industry, which provides system solutions for medium and high-end LED full color display products. As a state-level high-tech enterprise with registered capital of 73.58 million RMB and net assets of 500 million RMB, Liantronics is specializing in LED application products from developing, manufacturing, sales to service.
With continuous investing in high accuracy automatic equipments for effective manufacturing and engineering, our production capacity hits up to 10,000 square meters per month, ranking top 3 in the world.
Source:
http://www.led-search.com/news-view-3075.html