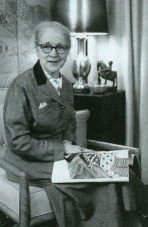 You've probably seen our Facebook posts for Throwback Thursday. And while we often poke a little fun at the colorful, busy designs depicted in those vintage ads, we have a lot of respect for the designer responsible for those creations. Hazel Dell Brown, the chief interior designer for Armstrong for 36 years between 1921 and 1956, holds a place in our company's history, and in our hearts.
Hazel Dell Brown was a powerful woman for the times. Like many of her generation, Mrs. Brown's story is a testament to determination. She grew up terribly poor, but was raised by industrious and inventive parents who fostered her love of art. A scholarship enabled her to study at the Pratt Institute in New York.
Shortly before she took up studies in New York, Hazel married Glenn Brown, who in two short months was to leave for France for WWI. Her new husband was gone for the better part of her first year of studies and it was then that she learned that he had been killed in action. Despite this terrible news, she continued her studies and in 1920 was appointed to be one of the assistant supervisors of art for Indianapolis public schools.
Now here's where it gets interesting. In 1921 her supervisor received a letter from "the sales manager" at the Armstrong Cork Company asking for a recommendation for a designer to take charge of the interior design at the company. She recommended Ms. Brown, and the rest is history.
According to the Indianapolis Sunday Star in 1923, it must have been quite an experience. "What her employers thought when the 5-foot stylishly dressed young woman appeared in their offices in October 1921 history does not record. It was a modern and feminine version of the story of David and Goliath." What followed was a long and prolific career, where she was responsible for producing the interior design content for ads, publications, and other promotional materials for the company for over 30 years.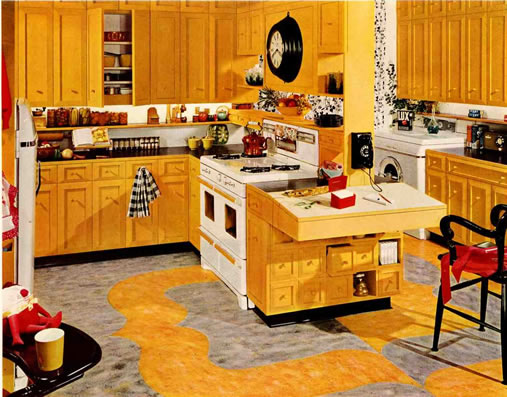 A favorite design from Hazel Dell Brown – a cheery yellow kitchen from 1954.
She's quoted as saying that she was still using her teaching skills, "…but now, instead of working with my classes of Indianapolis boys and girls, I am teaching the women of the whole country to love beautiful colors and harmonious combinations in their own homes."
Mrs. Brown was an early pioneer of the "creative upcycling" movement as well. She had to be; her design career spanned the Great Depression and WWII. When times were tough, she got creative, explaining in her 1941 booklet "Album of Room Ideas" that with some basic decorating skills and extra fabric, you could turn the dull and boring bedroom in a lively new room without needing to purchase much beyond some extra fabric. A crusader of the "small space" movement, she recognized that small kitchens were the norm – and showed how they could still be "lovely and functional spaces." And there were plenty of suggestions for turning attics, basements and spare bedrooms into lovely "apartments" for elderly parents or growing children.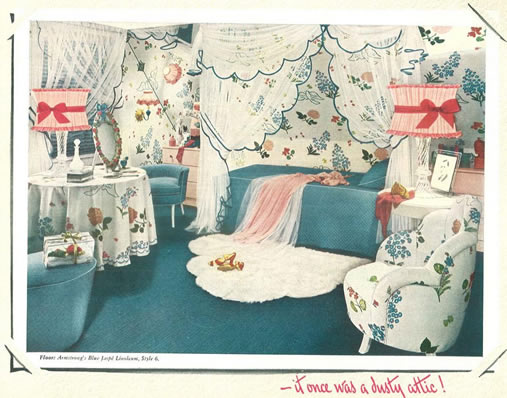 Another favorite from "Album of Room Ideas" published in 1941, shows how to turn a "dusty old attic" into "glamour room for a teenage girl."
Although she retired in 1957 and passed away in 1982, there is no question that Hazel Dell Brown left an indelible – and colorful – mark on the rich heritage of design at Armstrong.
We'll close with a quote from Mrs. Brown, as her advice still rings true today: "[And] that's something to remember about interior decoration – don't be afraid to use your own ideas. They're what give a room charm and make it reflect your personality instead of being a copy of what you might find in almost any home."
Source:
http://www.armstrong.com/flooring-blog/2014/06/10/throwbackthursday-story-hazel-dell-brown/