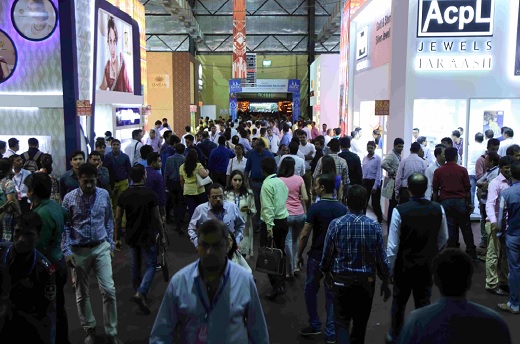 The India International Jewellery Show (IIJS), which took place in Mumbai this week, reflected a cautious local diamond and jewelry trade, even if sentiment was better than expected. Suppliers arrived with low expectations as a month-long strike among jewelry retailers, high gold prices, domestic and global uncertainty, and sluggish polished diamond demand had taken their toll.
IIJS remains an important indicator of India's gold jewelry market. It's less of an event for diamantaires as they rely more on exports than local sales. However, even if they don't see it as a significant selling opportunity, the country's many large diamond suppliers do use the show as a marketing and branding exercise.
A recent trend has seen more diamantaires presenting as diamond jewelry suppliers at IIJS. This is to take advantage of the better margins offered through jewelry than loose diamonds and because of the low level of polished trading at the show. The loose diamond section simply doesn't have the same trading buzz - or international presence - that the Hong Kong or Las Vegas shows provide.
In addition, domestic diamond consumption has slowed as labor market issues and restricted consumer credit inhibited spending last year, according to De Beers Diamond Insight Report. Diamond sales in India at polished wholesale prices fell 9 percent to just over $3 billion and the country represented 7 percent of global demand in 2015, the report noted.
Opportunities and Challenges
However, few deny the opportunity India presents as the local market maintains its growth potential.
''Indian consumer demand for diamonds has more than trebled over the past decade and India is today the world's third-biggest consumer market for diamonds,''De Beers wrote.''Yet this growth story is far from over. Rising incomes and aspirations could afford India's diamond industry an even bigger prize over the next decade.''
There are challenges, however, facing both the wholesale and retail jewelry markets. Especially how to tap into that growth in incomes and aspirations while the industry goes through a phase of significant change, explained Sabyasachi Ray, executive director of the Gem and Jewellery Export Promotion Council (GJEPC), which organizes IIJS.
Changes within the sector are being driven by government policy, with new tax regimes being passed into law, as well as market developments, such as the recent rise in gold, drop in diamond prices, and threats such as undisclosed mixing of synthetics with natural diamonds.
Those developments directly impacted activity at IIJS, none more so than the 1 percent excise duty on jewelry introduced earlier this year. The tax sparked a 42-day strike by jewelers in April and May, which meant they missed the busy wedding season. As a result, gold suppliers noted their retail customers curbed orders at IIJS as they still had inventory from earlier in the year. ''Major retailers came and placed orders but not at the same level previously seen,'' said Jatin Mehta, of Laxmi Diamond, a diamond manufacturer which also has a diamond jewelry line.
Gold jewelry orders were about in line with last year's show, while studded jewelry was down approximately 20 percent, the GJEPC's Ray estimated. However, that lower activity was not due to the strike but diminished end-user demand in India, argued Sanjay Shah, director of Gold Star Jewellery.
Gold jewelry orders were steady, according to others attending the show, with retailers expecting gold prices to increase further after rising 26 percent since the beginning of the year to INR 31,400 per 10 grams at press time. Investors shifted to the yellow metal amid currency volatility and uncertainty following the UK's vote to leave the European Union. Some jewelers at IIJS said they still expect gold to rise to INR 35,000, which they believe is spurring additional demand since ''people in India buy as long as gold is stable or trending upward.'' However, Shah believes consumers have already cashed in on the recent rise in gold prices by selling back their gold jewelry to retailers, who have consequently been left holding larger inventory and lower liquidity.
Taxing Issues
One thing was for sure, the level of gold demand at the show was enough to signal a return to normalcy following the strike, according to Ray. He stressed the excise duty, the root cause of the strike, is here to stay and, importantly, concerns about how it will be implemented have been eased after recommendations made by a combined government-trade committee were adopted.
The next challenge will be implementation of the Goods and Services Tax (GST), which was passed by parliament this week. GST will incorporate a number of taxes, including the excise duty on manufactured goods, the value added tax charged on product sales, a tax charged by service providers, and the 0.1 percent octroy applied to polished diamonds shipped across state lines into Mumbai.
While GST is expected to simplify the country's complicated tax system, Ray admits it presents unique challenges for the diamond and jewelry trade. Basing the tax calculation on supply rather than the final sale, as GST proposes, is difficult for diamonds and jewelry since the product changes hands so often.
The new tax, however, is being welcomed by G.V. Sreedhar, chairman of All India Gems & Jewellery Trade Federation (GJF). He expects it to free up the flow of goods and ultimately boost sales, even if it's still unclear what rate will be applied and given it will take time to get used to the new system.
Stimulating Demand
The industry is presenting its recommendations to government later this month and certain exemptions are expected to apply before GST will be implemented on April 1, 2017. In those negotiations, jewelers will want to avoid a repeat of the excise duty debacle from earlier this year as their sales are already lagging. Hence, they are concentrating on stimulating demand given an estimated 60 percent of retail sales will be made in the next few months before Diwali, India's festival of lights.
Most expect a decent season given there is some pent up consumer demand resulting from the strike. That already helped lift sentiment at the show. Diamond suppliers were also encouraged by a memorandum of understanding signed by De Beers and the GJEPC to support generic marketing of diamond jewelry for the festival, which begins on October 30.
The agreement furthers the GJEPC's current strategy focusing on two diamond industry issues: stimulating demand and advancing research and education about differentiating synthetics. Both issues dominated discussions among diamond suppliers as they looked beyond India to their ''more important'' export markets to improve sales.
In fact, the large diamond manufacturers were really more focused on preparing for next month's Hong Kong show than what happened at IIJS this week. ''Hong Kong is very important because it's well timed to attract Chinese buyers and international dealers ahead of the season in the U.S. and the Chinese New Year,'' Mehta said. ''Most diamantaires are not affected by India because it's still a small part of our business.''
India's jewelry industry has some hurdles to climb before the diamond trade can grow that domestic supply. But it appears to be on the right track. Diamond jewelry sales in India will undoubtedly rise in the long term, presenting an opportunity for local diamantaires. Perhaps then, IIJS will expand from its current niche of being a domestic show, concentrated on gold jewelry.
Source:
http://www.diamonds.net/News/NewsItem.aspx?ArticleID=57732