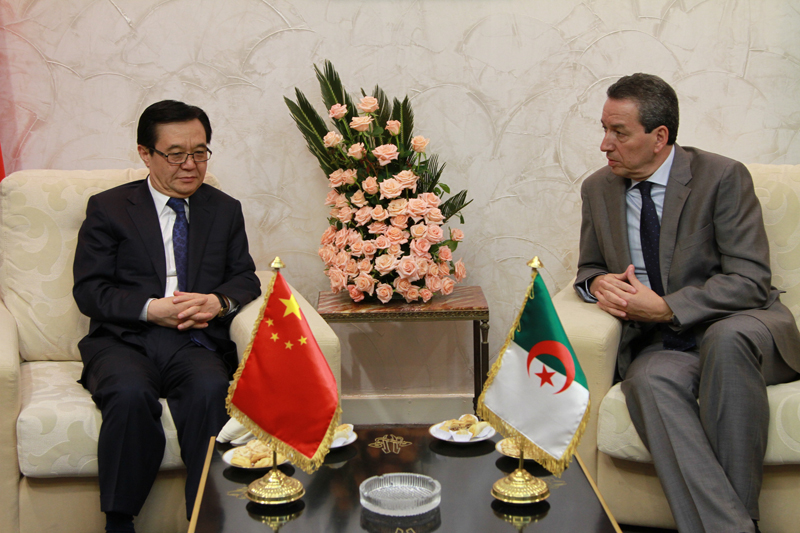 The visiting Chinese Commerce Minister Gao Hucheng and Algerian Trade Minister Amara Benyounes co-chaired the 7th China-Algeria Joint Commission of Economy and Trade on April 10. The two sides spoke highly of bilateral cooperation in trade and economic areas and reached extensive consensus on strengthening bilateral trade and economic cooperation in the future.
Gao said this was the first meeting since the two countries established comprehensive strategic partnership. In recent years, much progress have been made in trade, infrastructure, investment, agriculture and new energy areas, and bilateral trade and economic relations have maintained a sound momentum of development. The "Belt and Road" initiative proposed by China coincides with Algeria's orientation of economic development. China welcomes Algeria to participate in "Belt and Road" construction, give the two sides' complementary advantages in industry, technology, and capital into play, strengthen bilateral cooperation in infrastructure and industrial development, and realize the win-win results and common development. Within over three decades' reform and opening-up, China has accumulated rich experience in industrial development and the high performance to price ratio competitive capacity , which adapts to Algeria's needs of development. The Chinese side will encourage its domestic enterprises to expand investment and cooperation with Algeria in areas of railway, power, steel, cement, mineral resources, gas and oil, and new energy, and promote to transfer China's competitive production capacity to Algeria.
Amara Benyounes said the Algerian side would like to join efforts with China to build the " Belt and Road". The two sides enjoy a broad prospect of industrial cooperation. The Algerian side welcomes Chinese businesses to upgrade the investment in Algeria, positively join Algeria's economic construction in infrastructure, carry out more major project cooperation and enrich the contents of China-Algeria comprehensive strategic partnership.
  
Gao Hucheng and Amara Benyounes jointly held a news conference after the joint commission.
Source:
http://english.mofcom.gov.cn/article/newsrelease/significantnews/201504/20150400940938.shtml