Apple has announced HealthKit, a glorified healthcare and fitness app bundled into iOS8 that can potentially communicate patient health data to hospitals. The company also announced a partnership with the Mayo Clinic, which is exploring the integration of HealthKit, potentially enabling the app to share health information with clinicians. For instance, clinicians can use HealthKit to define custom ranges for metrics like heart rate and blood pressure for the patient. If a reading falls out of that range, HealthKit can contact the hospital proactively. A doctor could then contact the patient to provide them with medical advice.
"We think this will be really important for healthcare," said Apple's senior vice president of software engineering Craig Federighi. The CEO of the Mayo Clinic, John H. Noseworthy, MD, apparently agrees and was quoted in the announcement as saying: "We believe Apple's HealthKit will revolutionize how the health industry interacts with people. We are proud to be at the forefront of this innovative technology with the Mayo Clinic app."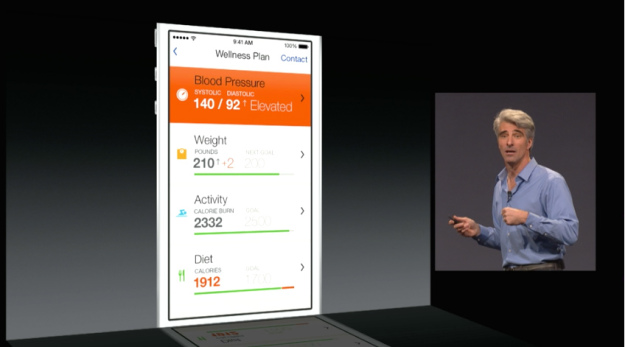 Apple's Craig Federighi announces HealthKit during the WWDC 2014 keynote.
In addition, Apple announced that it was working with healthcare software firms like Epic Systems to integrate HealthKit with a number of hospitals across the United States.
Other functionality announced for HealthKit include its ability to integrate data from a range of sources, including third-party wearable fitness devices made my companies like Nike. HealthKit can provide users with a dashboard for their health, weaving in metrics ranging from sleep duration to calories burned throughout the day.
Much of the latter functionality was leaked in March although the name of the app was referred to as "HealthBook" rather than "HealthKit." Earlier reports hinted that Apple would integrate the app with its rumored iWatch, which may be announced later in the year.
Last week, Apple's rival Samsung Electronics announced a digital health infrastructure it dubs SAMI (Samsung Architecture Multimodal Interactions). The company also announced a smartwatch called Simband.
Image modified from Flickr photo. Used under Creative Commons.
Source:
http://www.qmed.com/news/apple-biggest-digital-health-company-overnight