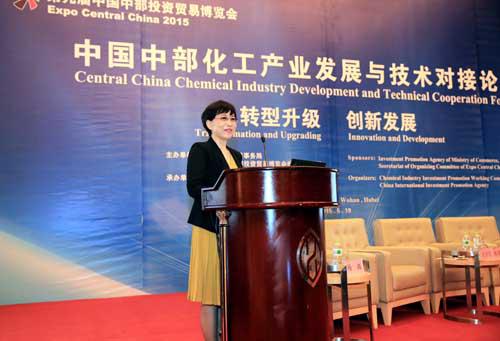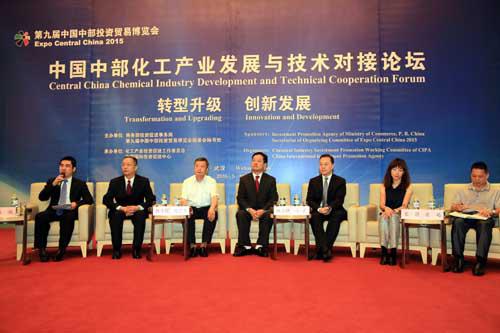 Central China Chemical Industry Development and Technical Cooperation Forum, hosted by China Investment Promotion Agency and Secretary of the 9th Expo Central China Committee, undertaken by Chemical Industry Investment Promotion Committee and China International Investment Promotion Center, was successfully held in Wuhan. Deputy Director of China Investment Promotion Agency Wang Xu attended and addressed the forum. The forum was attended by over 160 representatives from members of Chemical Industry Investment Promotion Committee, chemical industrial parks, enterprises, associations and research institutions in central China.
At the meeting, the director-general of China National Petroleum & Chemical Planning Institute Gu Zongqin made a keynote speech on chemical industry's focus on development in the thirteenth five year plan. Deputy division chief of the Department of Material Industry of Ministry of Industry and Information Technology Zhang Fan and director-general of IHS Global Special Chemical Department Yang Wei addressed on the opportunities and challenges for the transformation and upgrading of central China chemical industry, and the future and opportunity of special chemical products at home and abroad. Experts from Shanghai Research Institute of Chemical Industry, Institute of Process Engineering, Chinese Academy of Sciences, Dalian Institute of Chemical Physics, Chinese Academy of Sciences, and KBR Company lectured on the research and application of the latest technology in petrochemical industry, coal chemical industry and green chemical industry areas.
The dialogue link was chaired by the secretary of SINOPEC Association Yang Ting and attended by the deputy director of Wuhan Municipal Commission of Economy and Informatization Yang Lixiang, the deputy director of Management Committee of Wuhan Chemical Industrial Park Qian Fangxin, the deputydirector of Management Committee of Puyang Economic and Technological Development Zone in Henan Province, the vice Chairman of Total (China) Investment Co., Ltd. Leng Yan, the general manager of Dow Chemical (China) Investment Company Limited Wuhan Branch Song Wei and the acting general manager of Guangdong New Huayue Petrochemical Incorporated Company Liang Yue. They carried out in-depth talks on topics related to measures and policies that the government has made to encourage the transformation and upgrading, and innovation and development of chemical industry, the industrial chains planning of central China chemical industry parks and its practical support and service to business, as well as the investment prospect and development potential of central China chemical industry.
After the meeting, about 80 representatives visited Wuhan Chemical Industrial Park and surveyed the investment environment and project planning of the Industrial Park.
The forum gave the representatives an overall, systematic and accurate understanding about the relevant policies and the latest technology in chemical industry by interpreting the latest development tendency, dialogue communication and technology and project matchmaking. It has built a cooperation platform to enhance the chemical industrial parks and enterprises in central China to extend the industrial chains, and to realize the technology upgrading and improvement, and it has provided a good idea for the transformation and upgrading as well as the innovation and development of the chemical industry in central China.
Source:
http://english.mofcom.gov.cn/article/newsrelease/significantnews/201505/20150500990270.shtml