MALAYSIA PRIDE ENCOURAGESCOMPANIES TO IMPROVE&INNOVATE AS IT AIMS TO BUILD A NETWORK OF WORLD-CLASS MANUFACTURERS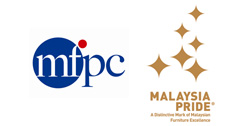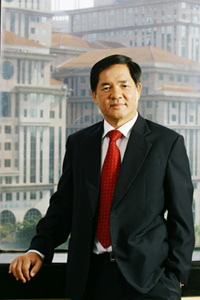 Mr Au Leck Chai
Chief Executive Officer
Malaysian Furniture Promotion Council(MFPC)
Mr Au assumed the position of Chief Executive Officer of the Malaysian Furniture Promotion Council(MFPC)in 2007.He graduated with a Master of Science degree in Technology and Development(Imperial College),University of London,(UK),and a Bachelor of Science degree in Chemistry from University Sains Malaysia(USM).He also obtained a Diploma of Public Management from the National Institute of Malaysia(INTAN).
Mr Au has served in the Malaysia Civil Services since 1978 and has held senior positions in various Ministries such as Ministry of International Trade and Industry(MITI),Ministry of Plantation Industries and Commodities(MPIC),Ministry of Energy and Ministry of Education.
Malaysia Pride was launched in January this year at IMM Cologne,where the pioneer batch of membersshowcased the best of Malaysian-made furniture.The choice to launch the mark at one of the biggest furniture trade fairs in the world was a bold statement of intent from the Malaysian Furniture Promotion Council(MFPC),the organisation behind Malaysia Pride.It seems to have had the desired effect,as the Malaysia Pride mark looks set to grow in prominence and stature.
In an exclusive interview with FFE,Chief Executive Officer of MFPC,Mr Au Leck Chai,tells us more about Malaysia Pride and discusses the prospects facing the Malaysian furniture industry as a whole.
FFE:What can buyers expect from furniture manufacturers who have received the Malaysia Pride mark?
Au:The Malaysia Pride mark serves as an assurance of quality to buyers–quality in terms of the company as well as its manufactured products.To a certain extent,Malaysia Pridealso serves as a mark of originality in design for the manufacturers accredited by us.
So,while we ensure the manufactured products are of a consistently good finish and are well-designed,we also expect a competent delivery system and after-sales service from the manufacturer.In addition to that,we look at their background and assess their track records to see if they're able to fulfill all the conditions we've set for them.We will only choose a company that's proven to be responsible and trustworthy.
FFE:How has the industry responded to the introduction of Malaysia Pride and what changes will this bring about?
Au:The introduction of Malaysia Pride was meant to bethe catalyst to transform the way of doing things for Malaysian manufacturers.Looking at the background of the Malaysian furniture industry,most companies started off as Original Equipment Manufacturers(OEMs),where they follow the design of buyers and then mass-produce according to the demand.
We think that manufacturers need to change their mindsets,instead of continuing to do things as they've done for the past two decades.This is especiallybecause of the emergence of international competition from countries like China and Vietnam,who can produce furniture at even lower costs than Malaysian manufacturers.Buyers know how to source around for the best prices,so these low-cost countries will always be chosen if buyers are looking for an OEM.
Therefore I think in order to maintain its competitiveness,Malaysia's furniture industry needs to transform to being more design-oriented.It is our hope that the demand for Malaysian furniture in future will be based on itsability to create attractive,original designs.
Through this process,I believe Malaysian manufacturers can establish themselves as price leaders rather than price followers,and will be able to fetch a premium.Malaysian furniture players have to capitalise on their reliability and the good image of Malaysian-made products,as well as the country as a whole,in order to boost sales.
Over time,the membership of Malaysia Pride will only increase and we expect there to be a lot of activity among the members:In terms of the exchange of ideas,arranging of programmes and so on.This will make it easy for MFPCto promote Malaysia Pride members as a group of high-quality furniture manufacturers from Malaysia.
FFE:You said you want to increase the network,but at the same time you wouldn't want to compromise on quality control.How do you balance the two?
Au:Ideally,we want all manufacturers to be deserving of the Malaysia Pride mark;but it may not be possible to achieve that.Our target is to have'as many as possible.'Malaysia Pride is like a shipsailing to the ports of the world–the various international markets.Members on board this ship will receive incentives on top of the privilege of being associated with the Malaysia Pride mark.Of course,there will also be specialist care from MFPC in terms of its promotion and marketing efforts.Hopefully seeing all this will give non-members the desire to come on board–andMFPCis willing to make this possible by helping them to improve.
Currently we have eight confirmed members but we are making a continuous effort to attract more.There is a certain expectation of quality–so not just anybody can come on board.Our target is to have 15 to 20 companies by the end of 2012.We receive continuous applications and we are still in the midst of reviewing a number of applications.
At the end of the day,we hope these companies will be able to produce to a certain minimum level of quality.I must stress that Malaysia Pride is a starting point,but as time goes on,the demand for product quality will increase.It is a starting point to get a critical number,but at the same time we don't want to be so punitive and strict as to limit the programme to just a small number of companies.The whole idea is to try and be as industry-wide and inclusive as possible.
FFE:What is the process for a company to receive the Malaysia Pride mark?
Au:Once a company understandsthe significance of Malaysia Pride and subscribes to the idea of it,they have to allow their factory and processes to be audited byMFPC-appointed evaluators,where we will assess theirmanagement competence and production capability.
If after evaluation the company is found to have certain areas of weakness,we will advise it on how to improve;and help it to improve.Thereupon there are also government incentives to apply for.Of course,it's up to the individual companies whether they want to make the change and improve.If they do,then we are there to help them.On the other hand,if they don't have the immediate ability to improve,then we can create a special programme to help them.For example,if a certain weakness has been identified to be common among the industry players,we can implement a tailor-made programme to help these companies.
Even if companies choose not to be endorsed by Malaysia Pride,we will not ignore them.There are still government efforts to promote them via other agencies.However they risk being ignored and marginalised at their own expense,because they may be seen as not being competitive.
FFE:What were the challenges faced in implementing Malaysia Pride?How were these challenges overcome?
Au:The biggest challenge was changing the mindsets of the manufacturers.As with any other industry,people get used to doing the same thing over and over.So manufacturers are faced with the insecurity that if they do things differently,they may not be successful–even if everything seems good on paper.Some are even willing to compromise on margins just to continue doing things the way they're used to.Therefore this paradigm shift is the most challenging aspect.
We need to help them realise the reason behind the change.It's about re-focusing on design;spending a little bit of money.That itself is a problem because many of them look at design as an expense,rather than an investment.They may not see the immediate returns but over time,they will.
When design or branding of a product is viewed as an expense,a company will not develop that aspect and instead cut it down as much as possible.This is how the old mode of thinking can stifle a company's progress.If you look at the industry players in Malaysia,many of them are family-based companies.Paying to engage designers is still largely seen as an unnecessary expense by the older generations.These companies need to adopt new ways of thinking in order to stay relevant,or else they will find it difficult to compete in the years to come.
FFE:What efforts have been made by MFPC to promote Malaysia Pride and what has the response been like?
Au:Our main objective is to promote Malaysia Pride internationally.The whole industry in Malaysia is export-oriented;we are talking about around 85 percent of production for export.So MFPC's target is to lead the players into the international market,rather than the domestic market.
We were very keen to move quickly,so we launched the first fiverecipients of the Malaysia Pride mark onto the international stage by featuring them at IMM Colognein January this year,under the Malaysia Pride Pavilion.There will be further participation in international furniture fairs,allowing members to showcase the best of their products.
Of course,MFPC and the related agencies will help to promote and market them as well as match them with buyers.Promotion includes'outboundmissions',where we go out and promote the Malaysian furniture industry as well as the members of Malaysia Pride.Members have the benefit of having somebody promote their brand and products for them.This saves them a fair bit in marketing expenses.
In time to come,we will have acontinuous production of brochures displaying members'products,which we hope to make into a catalogue when we have enough members.This will serve as a kind of directory for potential buyers overseas.
The response to Malaysia Pride has been quite encouraging,especially from the various publications which came to know of our launch.In fact,when we were in Cologne,Mobelmarktcarrieda special feature on Malaysia Pride;as did the Centre for Industrial Studies(CSIL).We also received enquiries from Romania,Poland,and Russia.In fact,Malaysia Pride will be introduced at the upcoming RussianFurniture Industry Summit in June2012.
FFE:What are the next steps for the Malaysian furniture industry?
For the next five years,MFPCwill work with the ministry and other related agencies to promote infrastructural enhancements.This will include setting up designated focal points,like design centres,and conducting specialised workshops.We also have established bilateral cooperation with the Italian governmentfor the services of designers,as well as for training,management and design courses for Malaysian furniture industry players.This bilateral cooperation also opens up further opportunities for Malaysia's furniture industry to receive investments from the Italian government.
Under our national timber industry policy(NATIP),the furniture industry is expected to increase export value to the tune of RM16 billion–in other words double of what we currently have.The challenge given to us is to achieve this by 2020–that is the NATIP target.The important thing is that we do not slack off.Whileit is gratifying to know that we have gone from 10th to 8thposition in terms of exports,tomorrow we might still drop in ranking.We must make sure our export value grows in tandem with the industry.
Source:
http://www.furnitureandfurnishing.com/html/news/interview/120612.html