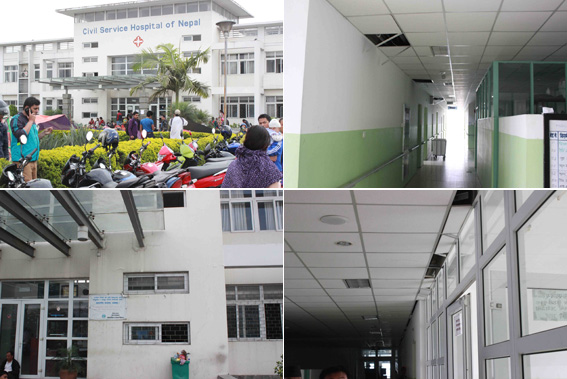 On April 25, an 8.1-magnitude earthquake hit Nepal, causing serious financial losses and causalities. China-aid projects stood intact, among which the Civil Service Hospital of Nepal built by China was honored as the "Strongest Building", and has become an important local rescue center.
The Civil Service Hospital of Nepal is located in Minbhawan, Katmandu, the Capital of Nepal, with 120 beds, and covering 11,330 square meters. There are 22 general and professional sections and 4 logistics departments in the hospital, and the seismic fortification intensity is 8 degree. The hospital's construction was completed and handed over to Nepal in October 2008, which is the first China-aid project since the establishment of the new government of Nepal.
After the earthquake, the major structure of the Civil Service Hospital was intact and solid, as well as the overall appearance, the outer wall, doors and windows and glasses. No cracks are found in the beam columns, and the interior walls were also free from cracks. The indoor suspended ceiling and the floor tile were generally good, with only a few suspended ceiling falling off and a little transverse cracks found in the outer wall of the second floor. Currently, the hospital is still in the intense operation to receive the wounded from Katmandu and other regions continuously, and it has become an important rescue center there.
Over the years, apart from the Civil Service Hospital, China has built a comprehensive technological school, a research center for nature conservation and a training center for traditional medicine. After the strong earthquake on April 25, the Ministry of Commerce instructed the Economic and Commercial Counselor's Office of the Embassy of China in Nepal immediately to organize the engineering technicians in Nepal, checking the situation of the completed China-aid projects. According to the check, the major structures of these projects were all solid and steady, and the appearance and interior furnishings were good, withstanding the strong earthquake.
The Chinese government has always attached great attention to the quality of foreign-aid projects, has formulated regulations and systems corresponding to every link of the projects construction, and has taken part in the whole process of the projects implementation with the recipient countries. At the end of 2014, the Ministry of Commerce issued a comprehensive departmental administration of foreign aid The Management Method of Foreign Aid, clarifying that the long-term quality assurance and supporting technological services were monitored by the project management , driving the quality of China's foreign aid projects to a new level.
Source:
http://english.mofcom.gov.cn/article/newsrelease/significantnews/201505/20150500962356.shtml