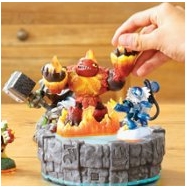 It's been an incredible year for Skylanders. Why do you think it's been so continually successful?
Well, apart from the obvious fact it's a superb concept it's down to 1. Marketing spend, 2. Marketing spend and 3. Marketing spend.
The gaming industry dwarfs the toy industry in TV and marketing spend so the Skylanders figures have benefitted massively from Activisions huge spend on the Skylanders brand.
Considering your success with Skylanders, how excited are you about the new Skylanders Giants toys? What are your retail expectations?
If I was to tell you that our company's two best ever months for sales were October and November in 2012 and that I am forecasting that in this week (October 15th to 19th) our sales in this one week will surpass our combined monthly sales for last October/November, this should give you an indication of my huge expectations re the Giants launch.
I anticipate there to be a frenzy of activity at retail on launch day. With Giants launching just nine weeks prior to Christmas coinciding with a massive TV/PR launch, there is no doubt the Giants figures will be in huge demand.
Will you be stocking other Skylanders Giants products?
We certainly hope to get the same reputation with Skylanders as we have with Moshi, to be the 'one stop' Skylanders distribution company.
As well as the full range of Giants figures and starter packs we will be supporting a number of manufacturers with a wide variety of products, ranging from back packs and wallets to stickers, tattoos and stationary.
Skylanders trading cards and calendars have just arrived in stock.
Why should toy retail be excited for Skylanders Giants? Can they expect any surprises?
My opinion is the biggest surprise will be the rate of sale that will be fuelled by the huge TV spend on the game itself.
Do you think a Skylanders TV show or film would boost toy sales?
A TV show or film would of course boost any toy sales but as Skylanders as a game really is superb and Activision's marketing dwarfs any toy campaign. My honest personal opinion is that it is just not needed.
Some toy retailers have found it difficult to get stock. How's it been for Giants? What would you say to retailers who are concerned over a lack of stock?
We guaranteed Giants stock for any orders received.
What's the deal with you and Activision this time round? Are you distributing to independent toy retailers only (and CentreSoft to everyone else)?
The deal has not changed. In general our responsibility is to supply the independent toy/gift retailers and CentreSoft supplies the gaming shops plus nationals.
What do you think about Skylanders toys not being tracked by NPD? How much do you reckon sales of Skylanders would add to UK toy industry sales?
It is unfortunate that the Skylanders figures track on NPD as gaming accessories. I strongly believe that if Skylanders figures were included as toys they would go straight to number one in November for sales [in terms of value].
What do you think about rare Skylanders figures being sold on sites like eBay? Do you condemn retailers for doing that, or do you think it's just a natural effect of a kids craze which has rare products, like trading cards?
All electronic platforms are on the increase and eBay will continue to be a major force worldwide, irrelevant of what anyone thinks.
The reality is more and more retailers are finding they can supplement their sales via eBay, but the morality of whether retailers decide to sell a sought after figure for higher than RRP on eBay is always a decision to be made by each individual retailer, based on their own circumstances.
Do you think Skylanders is more than just a kids craze? Do you think the bubble will eventually burst?
Skylanders is without doubt more than just a kids craze. Activision has aspirations of Skylanders being a billion dollar franchise and I have absolutely no doubts this will be the case.
Activision sees Skylanders as a brand with huge longevity and I have every faith they will deliver.
Source:
http://www.toynews-online.biz/features/582/INTERVIEW-The-In-Thing-on-Skylanders-Giants