If you are unsure how big of a tent you need for your event.
Here are some things you need to consider.

Choosing the right tent for your special event is critical to the comfort of your guests and the smooth flow of traffic throughout the event site. You will need to consider:
On what kind of surface will the tent be placed? Grass, concrete, asphalt, wood deck?
How much space do you have? Dimensions of tent site?
How many people do you wish to accommodate and in what configuration? All seated at tables, partial seating, cocktail party setting?
What other items would you like to have under the tent? Buffet, bar, cake table, dance floor, stage, etc.?
What time of day will your event take place? Will you need lights and/or heat?
Is there a power source at the site? What are your power requirements?
Do you wish to enclose any portion of the tent?
Will you need accessory tents for caterer's prep station, beverage service station, or to feature a focal point such as an ice sculpture or wedding cake?
Some typical tent sizes include:
A 20' x 40' tent could accommodate 100 seated theater style (rows of chairs with an aisle up the middle) or 64 seated at round tables of 8.
A 30' x 60' tent could accommodate 225 seated theater style, 144 seated at round tables of 8, or 180 seated cafeteria style (rows of 8' banquet tables).
A 40' x 60' tent could accommodate 120 seated at round tables of 8 with a buffet, bar, cake table and dance floor.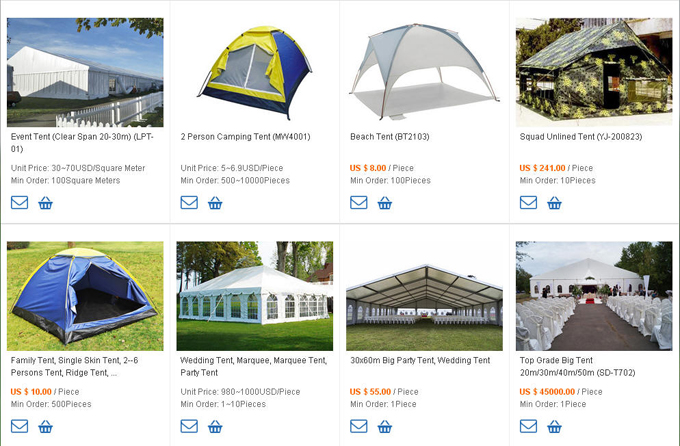 Getting the products that's right for your events is the first step. For additional product and company information, please refer to
http://www.made-in-china.com/special/tent/
Source:
Made-in-China.com