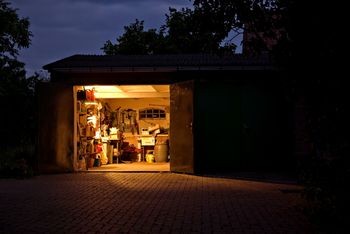 One of the most neglected parts of our house is the garage. All the old and rejected household articles are kept inside the garage. Garden tools, chemicals, cans of gas and many such useless or less-attractive things are put up in the garage. As a result, the condition of the concrete flooring of the garage badly deteriorates, due to the mud, stains and dirt that get absorbed on its surface. For this reason, garage floor covering is important.

Types of Garage Floor Coverings

There is a variety of coverings available in the market. The effort required for their installation and the cost of these coverings, however, vary. Here is the list of garage floor coverings you can choose as per your needs.

Coating with Paint
This is a good option if you do not intend to spend a lot of money for the garage flooring. All you need to do, is to simply put a coat of paint over the concrete flooring. It will provide a moderate protective cover to the garage floors. Of course, this will significantly improve the look of your garage, as well. However, the one disadvantage is that the paint does not stay for a long time. Therefore, you have to repaint it at least once a year.

Coating with Epoxy
Epoxy or polyepoxide coating is best known for its adhesive qualities. It is costlier than paint. As compared to paint, it will undoubtedly give more protection and its durability will be more too. Before the application of epoxy, it is essential that you prepare your garage floor. Otherwise, it would fail to give a good quality finish. Due to its chemical composition, it requires multistage applications. Also, ventilation of your garage is mandatory. If the epoxy coated floor gets wet, it becomes slippy.

Tiles
Although it is far more expensive than paint or epoxy, it is one such option with benefits you can trust for many years to come. Floor tiles can be installed on your concrete flooring only if its condition is reasonably good. It is always advisable to take the help of professionals for the installation of tiles. The difference between garage floor tiles and the tiles used for the purpose of flooring your home, is the kind of adhesive used. You need not use the adhesive that you use for your home tiles. If you opt for interlocking tiles, the installation cost will be cheaper. The high-end tiles can make your garage look very attractive.

Mats
Polyvinyl parking floor mats have several advantages. They are long lasting and will not cost you much as well. They are waterproof and they give the feel of a carpet and are non-slip. It has a vapor barrier that prevents formation of mold below the mats. They are available in a number of attractive patterns and designs. It does not require installation, you just have to roll on the mats on the floor. Since they are not fixed with any adhesive, you can easily take them out of the garage for cleaning. You can wash it with detergent and scrub it as well, if required.

When you have a well-maintained garage then you can use it for some other purposes as well. If your garage have enough spare spaces, then it can be used for various leisure activities. You can use it as hobby room or game room for the children. You can convert it into a workshop as well.
Source:
http://www.buzzle.com/articles/garage-flooring-garage-floor-coverings.html