18 October 2012
Georgia State University selects Meaglow's hollow cathode plasma source
Meaglow Ltd of Thunder Bay,Ontario,Canada a privately held firm that produces epitaxy equipment and MBE and MOCVD accessories,as well as providing specialized thin films to research institutes and industry says that the USA's Georgia State University(GSU)has received shipment of its patent-pending hollow cathode plasma source for the development of group III-nitride compound semiconductor materials.
The installed plasma source extends the growth processing parameter space of GSUs existing low-pressure metal-organic chemical vapor deposition(MOCVD)reactors,upgrading the tool so that it can produce type III-nitride materials under normal low-pressure growth conditions.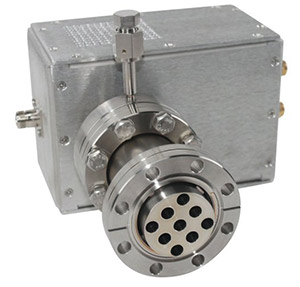 Pic:Meaglow's hollow cathode plasma source.
Meaglow says that its plasma source fosters a unique plasma-assisted gas phase and surface chemistry that provides a new path for the integration of dissimilar materials,as encountered for ternary and quarternary III-nitride alloys.
Research in Dr Nikolaus Dietz's group at GSU will study the migration-enhanced afterglow chemistry and growth dynamics for III-nitride epilayers and nanocomposites,and support Meaglow's effort in commercializing the growth technology.Meaglow has previously applied its hollow cathode plasma source technology via its migration-enhanced afterglow technique in the deposition of high-indium-content indium gallium nitride(InGaN)and recently demonstrated a yellow LED in the so-called'green gap'.
Meaglow says that it is now focused on commercializing its hollow cathode plasma technology,and is fielding inquiries from partners interested in plasma source solutions for MBE or any surface modification to materials.
Source:
http://www.semiconductor-today.com/news_items/2012/OCT/MEAGLOW_181012.html