Sofa cum Bed or a sofa bed has become an important component of modern living room furniture. A living room sofa bed is essentially a sofa whose seat unfolds to form a bed. Sofa cum bed is a very functional living room furniture as it acts not only as a seating arrangement in living room bust also as a bed when need arises- and perhaps that's why it has got the name- Sofa cum Bed! A living room sofa bed can be transformed into a single bed or a double bed based upon its design that mostly has a unique hardware system and a hand-held router template. Today's compact living room designs have led sofa cum bed manufacturers to make such sofa bed designs that can fit in almost every type of room. Sofa cum bed is one of the most practical and stylish piece of living room sofas for either a small living room or a large one. In fact, these sleeper sofas are a great space saver along with being capable of bringing aesthetic appeal to living room decor.
Types of Living Room Sofa Beds
Living room sofa cum bed types are mainly categorized acoording to their style and material. The various styles of living room sofa cum bed include:

Pull-out Sleeper Sofa Bed- The most common type of sofa bed is the pull-out sleeper sofa in which the bed and frame are folded into the base of the couch and hidden underneath the seat cushions. When bed is pulled out, the back and arms of the sofa cum bed form a headboard for the sleeper sofa bed.

Futon Sofa Bed- This type of sofa cum bed has a simple fold-down design. This living room sofa bed uses a one-piece design with the thick cushion upholstered to the frame. The back folds down forming a flat surface with the seat cushion. Sometimes, this type of sofa cum bed design has removable arms or no arms at all. In some of the futon style sofa cum bed, the back is doubled over, forming a larger bed when unfolded onto a supportive frame that slides out from the couch base.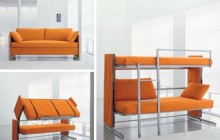 Convertible Sofa Bed
Convertible Sofa Bed- A convertible sofa looks like a usual sofa but can be converted into not only a single bed but into a double bed and sometimes even into a bunk bed. For this to happen the convertible sofa cum bed uses a rather compex mechanism than the other types of living room sofa beds.

Types of Sofa Cum Bed Material- Types of living room sofa beds are also categorized on the basis of material used for making the sofa cum bed. The materials used in the frames of most of the sofa cum bed designs are usually metal and wood. Quality sofa cum bed frames are made from hardwood such as oak, alder, birch, maple, teak, plywood etc.

Wooden Sofa Cum Bed
Mostly hard teak wood is used to make wooden sofa cum bed as it is very durable and at the same time will look good in living room. A wooden sofa cum bed is preferred by home owners who have their rest of living room furniture made from wood. In fact, most of the wooden sofa cum bed do not at all look like sofa beds- they look like a usual wooden sofa. However, these wooden sofas are so designed that their lower part in fron can be pulled out to make a bed sofa. Wooden sofa cum bed designs come in all varities- from traditional to contemporary and from well carved wooden sofa bed to very simple and sleek sofa cum bed designs. Depending upon the quality of wood used for making them, these wooden sofa cum bed also come in varied price range so people having budget constraints can even buy these attractive wooden sofa cum beds. While choosing the sofa cum bed first of all be sure of the space where you want to place that. Then measure the length and breadth to know what size of wooden sofa cum bed size is required. Once you have done this find out what color of wood you want to buy. This should be in respect to the rest of the interior decor.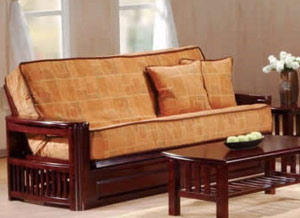 Wooden Sofa Cum Bed
Metal Sofa Cum Bed
Metal living room sofa bed is made with a variety of metals that include iron, wrought iron, aluminum and steel. Steel sofa and sofa cum bed is popular for their neat looks that is a representative of contemporary furniture. However, the most popular metal sofa bed for living room is the wrought iron sofa cum bed. As wrought iron does not rust like iron and has stylish looks, they are preferred to be kept in living room. In fact, the wrought iron sofa cum bed is popularly known as day bed as it has a different design as compared to other sofa cum bed designs. While regular sofa cum bed designs have parts that are used as beds hidden and that can be pulled open when needed, wrought iron sofa cum bed designs have wider seats that can be used as beds when needed. Mnay people also like to have Aluminum living room sofa bed as it is very light in weight and trendy in looks.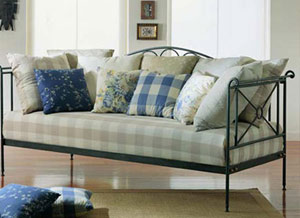 Wrought Iron Living Room Sofa Bed
Sofa Cum Bed Designs
Sofa cum bed designs are many and are all attractive. Perhaps that is why, people these days like to have sofa cum bed in their living rooms rather than just a sofa. A sofa cum bed with storage have become the latest craze among the furniture lovers of today. The contemporary sofas have really cool designs! The most popular living room furniture brand IKEA has a wide range of sofa cum bed designs. From wooden to leather and velvet you can get all and that too within a comfortable price range. Ikea sofa cum bed designs and styles are very unique and trendy. You can also check the latest designs at American Leather Company called AU. AU sofa cum bed has very clean lines, comfortable and cool designs. Check out some cool sofa bed designs!
Sofa Cum Bed Benefits
Sofa cum bed in a living room not only make the room decor most attractive but also have many other benefits. Check out these benefits of sofa cum bed furniture.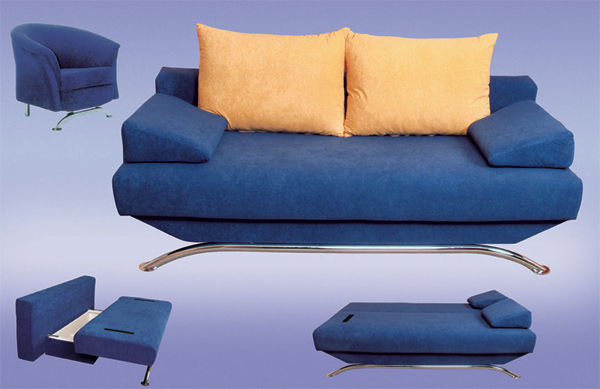 Living Room Sofa Bed
If you are living in a small apartment and do not have a separate guest room then you can place a sofa cum bed in the living room that can be used as a guest bed at night. In fact, if you need more space in your living room, you can always use an inflatable sofa bed. It is an excellent guest bed solution. To know how, read Inflatable Sofa Bed - Excellent Guest Bed Solution
Sofa cum bed also works as a storage space along with sleeping at night and sitting in the day time.
Sofa cum bed is very comfortable and can efficiently compete with normal bed.
You have an extra bedding that is required at the time of emergency.
Living Room Sofa Bed Tips
Whether buying a wooden sofa cum bed or a metal sofa cum bed for living room, there are some points that must be kept in mind. Fiber-filled back cushions and foam-filled base seat make living room sofa bed very comfortable. There are various types of upholstery that are used for manufacturing sofa cum bed and also for making them stylish living room sofa bed. Of these, the two major upholstery material for sofa cum bed are- leather and fabric. Although synthetic fabrics are more durable, color-fast and easily cleanable, the eco friendly fabrics are increasingly being used to make living room sofa bed a green furniture. The cushion designs of a sofa cum bed can be anything from plaid, floral, striped, solid or other varieties depending upon the furniture trends and demands. The styling of the sofa bed is an important consideration because it has to fit in with the design of the living room and, therefore one should be careful in the choice of fabric and color. In fact, sofa mnaufacturers even make custom sofa cum bed depending upon the requirements of individual customers.
Source:
http://www.furnitureforlivingroom.com/sofa-bed.html