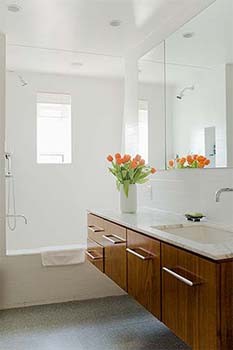 Bathroom wall cabinets can bring your dream of a clean, uncluttered and attractive bathroom into reality. You can store all your lotions, perfumes, deodorants, and many other common-usage things such as toilet paper, toothbrushes, toothpastes, towels, sanitary napkins, hair dryers, shavers, etc. in bathroom wall cabinets. A good-quality bathroom wall storage cabinet also adds a stylish touch to your bathroom.

If you are considering installing a bathroom wall cabinet, you must first know about the various options available. You can select one or customize one by combining certain features from the below-mentioned types.

Glass Type: A bathroom wall cabinet made of glass adds elegance to your bathroom. The kinds of glass usually used are tinted, regular, and mirrors. Regular cabinets have wooden doors. These are good but not trendy. For a stylish and more contemporary look, mirror bathroom wall cabinets are the perfect option. For an obvious reason, they add functionality to bathrooms. In order to use it as a mirror, install it at face level. If you prefer a classic look for your bathroom, you must go for the tinted and see-through glasses.

Wood Type: The versatility of wood enables it to adapt to any design, color, or tone. If you prefer a color scheme for the bathroom, wood is the ideal choice. Suppose white is the current color of your bathroom, install a white-painted bathroom wall cabinet and enjoy the bathroom decor. In case the interiors of your bathroom are inspired by metal, you must go for the wood type.

Multiple Door Cabinet Type: Depending upon the number of doors, a wall mount bathroom cabinet is of two types - two-door and three-door cabinets. The selection of one of the two types depends on the space available in your bathroom. If you have a big bathroom and need to store a lot of toilet articles, you must select the three-door cabinet. Otherwise, go for the regular two-door bathroom wall cabinet. It would be in better equation with the size of your bathroom.

The market is flooded with designs of bathroom wall cabinets. You have to choose the one that is in accordance with your needs, comfort and style statement. The available designs are - antique, contemporary, country-style, and urban style. Get one for the fabulous look you long for.

Suggestions for Buying a Bathroom Wall Cabinet
In order to buy a wall mount bathroom cabinet, searching on the internet is the first and the ideal action. Search for the one that suits the availability of space, your bathroom design, and, of course, your budget. Once you've made your choice, take a look around at different home improvement stores. Generally, they have a large collection of bathroom wall cabinets. Most likely, you will get one of your choice. In case you don't find one suitable for you, come back to the Internet. Conduct a search again. This time, look for the websites of those home improvement companies that provide home delivery. Buying a bathroom wall cabinet in this manner is a bit costlier as the price includes shipping costs and other taxes too. It takes a week or two to process your order and deliver the goods.

You can cut down the overall cost of installing a wall cabinet for bathroom by building it yourself. Following is a summation of the entire process along with the general instructions to build a bathroom wall cabinet.

How to Build a Bathroom Wall Cabinet
Bathroom wall cabinets need to be long-lasting. That is why the cabinets are generally built with hardwood. Nowadays, wood veneers (a coating of superior quality wood on a relatively inferior quality and cheap wood) are used for the same. Cabinets are available in standard sizes of 18, 24, 30, 36 and 60 inches. The standard height is 36 inches for base cabinets. Measure the space available in your bathroom. This will give you a clear idea of the kind and number of wall and vanity cabinets you can install in the bathroom.

Make a plan according to the area available to you. Draw and scale the plan on plane graph paper. The planning work will be no sweat if you make use of a kitchen-planning software program. You will get all the required raw materials for bathroom cabinets from a home depot. Cut the cabinet parts according to what you have planned.

Building a bathroom cabinet is made easy with a cabinet kit or a cabinet plan. The kit has all the parts of a bathroom cabinet. You just need to join them together. Simply follow the guidelines, which come with it. You'll need the help of certain hand tools such as router drill, screws, drill, hammer and table saw.

Once you are done with the building process, consider the most suitable space for installing a bathroom wall cabinet in your bathroom. Make sure it is a little away from the shower. It can be installed above the sink. There is no standard place where it can be installed. Place it anywhere according to your comfort and choice.

Bathroom wall cabinets add a comfortable and modernized look to the bathrooms. You would find them in a wide variety of styles, designs, and price ranges. Consider all the aspects of your taste and budget and select one that matches the current decor of your bathroom.
Source:
http://www.buzzle.com/articles/bathroom-wall-cabinets.html