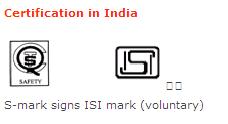 Nature: Mandatory (Mandatory)
Required standard: safety and EMC
Voltage: 230Vac
Frequency: 50Hz
CB system members: Yes

Safety certification (S logo) is a system of electronic products for third-party certification system, mainly led by the Government of India.

S logo features:
S-mark issued by the Indian authorities STQC, mainly for safety certification. In addition, the product exports to India, we will direct that the product is equipped with plug BS1363 plugs used in the United Kingdom, in fact, not in conformity with BS1363 plug the requirements of India's civilian, usually used in some industrial supplies; commonly used in India BS546 plug standard plug standards.

STQC application, we must also accept the factory STQC agencies to check the implementation of the project, at present they do not accept the other song made by other agencies of the factory inspection report CIG023.

ISI marked characteristics:
ISI mark from Bureau of Indian Standards (BIS) issued by the certification mark, almost covered by the scope of the norms of all walks of life, from agriculture, textiles to electronics.
Source:
http://www.estcl.org/category_ASIAview_c_169.html