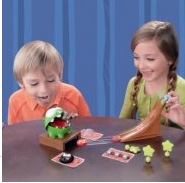 Mattel 01628 500 000
Mattel had two of the top five family games last year, according to NPD December 2011 data, and Uno was the number one card game.
This season it has a number of fresh products, including Chameleon Crunch, which features a walking and talking lizard, and the smack-and-catch Molehill Mania game.
Both are aimed at pre-schoolers.
Uno Roboto lets players record their names and create their own 'house rule', while rummy-based card game Phase 10 will arrive this year, too.
Moving on, and Loopz Shifter sees players take on a series of music-based memory challenges using the infra-red motion sensors.
However, this time, there's over 20 ways to play.
There are also games based on hit apps available, including Cut the Rope (pictured above), Angry Birds on Thin Ice and Fruit Ninja Slice of Life.
Mattel's boys marketing manager Jonathan Kirkley explains: "2012 will see the biggest ever Mattel Games marketing campaign."
Hasbro 020 8569 1234
The classic board game that lets players make a mint now challenges them to amass one million Monopoly Dollars in Monopoly Millionaire.
Then there's Monopoly Zapped and The Game of Life Zapped, which let players use apps to combine traditional face-to-face gaming with increased digital functionality.
Hasbro also has a host of games based on the popular Zynga iOS apps due out in October, including CityVille Monopoly, FarmVille Hungry Herd and Words With Friends.
For boys there's Connect 4 Dunk, where players compete to launch and land four of their 'kwods' in the Connect 4 tower, and for girls Twister Dance lets users dance on Twister spots to Britney Spears.
They can connect their MP3 player and listen to other artists, too.
In addition to the above, Bop It Smash is aimed at teens, while Snackin' Safari is ideal for pre-schoolers.
Cartamundi 01268 511522
Cartamundi is the world's leading card games manufacturer and has a collection of iconic releases based on major films.
The company is the exclusive UK supplier of playing cards and poker chips used in James Bond Skyfall, which arrived in September, ahead of the new movie's cinema launch in October.
Cartamundi has had a successful James Bond licence for ten years and also supplied the cards and poker chips for the Bond film Casino Royale.
Chief sales coordinator, Bert Van Pelt, explains: "We are proud that Cartamundi is able to contribute to the success of the world-famous Bond films. We hope the publicity generated by the new James Bond film will raise the profile of both Cartamundi and the playing card game in general.
"Poker is still a hype throughout the world, so we are convinced that this trend can only be stimulated further by the new Bond film Skyfall."
To celebrate the 50th anniversary of James Bond, there's the 007 50th Anniversary Playing Cards (£3.99), where images from Bond movies one to 22 are spread across two collectible packs.
Then there is the 007 50th Anniversary Compact Poker Set (£34.99), with 150 casino-quality chips, both commemorative playing card packs and a sturdy holdall.
Finally, kids and families can enjoy the Madagascar 3 Happy Families Game (£2.99) and the colourful Gift Set (£9.99), which contains Happy Families, Playing Cards and cards to conjure up magic tricks.
Drumond Park 01473 322000
Drumond Park is launching four new children's games and one family game this year. All five have their own multi-station TV advertising campaigns, and benefit from individual press, broadcast, online, social media PR, promotional and sampling campaigns.
FOOOZ is a football action game, for over fives, which can be played on any flat surface. It's like table football, but children control the free-standing collectable players by gripping one arm and twisting the other, to manoeuvre and flick the figure in their hands.
Pumpazing (for aged three and over), is a pass-the-parcel style game, where players compete to shoot colourful 'Zinger' heads from a Zingy unit by pumping his 'arms' as fast as they can.
The equally unique Spin Mania (six years plus) is a spinning, speeding, time trial challenge for boys and girls.
Against the clock, they 'spin-up' three helicopter-like rotary plates one at a time, and transfer them to stands previously hidden by their opponents.
In Logo – What Am I? (eight plus), players either draw, describe or answer questions, for the others to guess the names of well-known branded items. Ugg Boots, Raybans, Rolex and iPod make an appearance. Logo – Best of TV and Movies (for ages over 12) is a collection of TV and movie memories.
Imagination Games 01270 619100
Successful new launches for Imagination Games in the spring/summer include Ruckus and the Deadly 60 Tracker board game.
It says its autumn/winter product launches have been received well at retail and should be 'flying off shelves'.
Burping Burt is a cuddly little creature with built in electronic sounds. He parps, snores, sneezes and hiccups at will – which often results in fits of giggles from anyone playing the game, as well as teaching kids to combine their hearing, visual recognition and memory skills.
Players race to the end to get ahead of other participants.
There are six different Trivia Box products available, each with over 400 questions and their own big UK licence. The Simpsons, Family Guy, Top Gear, Match of the Day, Deadly 60 and Now That's What I Call Music are all planned to launch.
Kids can also play with five different 3D puzzle Disney Scenario Kits, including Mickey, Minnie, The Lion King, Cinderella and Snow White. Imagination has also gained distribution rights to a large range of products from Educa Borras in the UK, including creative play, ride-ons and puzzle products.
Esdevium Games 01420 593593
Esdevium says it offers the widest range of games in the UK. The company supplies titles from many of the leading board games manufacturers, as well as offering an extended collection of award-winning strategy games from all over the world.
The highly anticipated launch of Esdevium's Fly Trap game marks an expansion into the kids' action games category for the firm. With targeted PR support and strong TV advertising, the game of fly-flicking fun is set to make a big impact this Christmas.
As well as Fly Trap, Esdevium has some fantastic new additions to its huge games range.
New board games include the TV licensed titles, Would I Lie to You? and The Big Bang Theory, in addition to The Hunger Games board game. The licence is set to be in demand for consumers this Christmas, following the recent release of the first film on DVD.
Popular licensed games such as Terry Pratchett's Discworld and ITV's Take Me Out will continue to be key properties. The Take Me Out game will be supported by the return of the TV show in October, as it enters its fourth series. It will be aired at prime time on Saturday evenings next to The X-Factor. As host Paddy McGuinness might say, "let the customers see the game".
Esdevium will continue to supply the Nostalgia versions of Monopoly and Cluedo, which were hugely popular lines last year.
Other key titles include Wallace & Gromit's Fleeced board game, reaction games Jungle Speed and Dobble, plus Esdevium's massive range of strategy board games, headed up by the appropriately-titled Ingenious game.
Great Gizmos 01293 543221
Great Gizmos believes its range of pre-school games and puzzles from Popular Playthings is perfect for educational gameplay, saying it will bring hours of fun and learning to children aged three to five.
Sums have never been simpler with Monkey Math, which uses bananas and a monkey scale to make learning simple additions fun.
Children hang an equal number of bananas onto the monkey's hands, and if the addition is correct, the monkey will look straight ahead with his arms nicely level.
If the numbers aren't equal, his eyes will be crossed and arms up and down.
To help introduce children to their multiplication tables there is Monkey Multiplier, a cute monkey character that helps put the fun back into even the trickiest of maths. Point his toes at the two numbers that are to be multiplied and the answer mysteriously appears in the ring between his hands. There are other monkey-related games complete the Popular Playthings collection.
Paul Lamond Games 020 7254 0100
Subbuteo returns along with fully licensed teams Manchester United, Chelsea and Liverpool, plus Celtic.
The England, Scotland and Ireland national teams are available, along with a range of colour strips. Paul Lamond has also launched a range of accessories including a referee set, a pitch set, fences, and replacement sets for the balls and goals.
Other highlights include new children's drawing It's a Chicken, as well as a Zombie, Princess and the Kid Next Door game. There's a range of Dr Seuss games and puzzles, and a new addition to the pre-school educational range Chimp and Zee, with the Fish and Chicks game.
Paul Lamond has refreshed both adult and kids' Where's Wally puzzle lines, launched a card game and the addictive Wally Wand. To complement the existing range of 1,000-piece puzzles there is a new Beatles design, along with several new Simpsons puzzles.
The company has also launched a Room on the Broom Dragon Chase board game, a 24-piece floor puzzle and a 4-in-1 puzzle.
Captica 07889 181790
Captica is the umbrella brand for a wide number of games and puzzles.
Currently for sale is the Culica, as seen on BBC's investor TV series Dragons' Den in season nine last year. A Culica is a 3D cube where coloured pegs are placed in order to play games and solve puzzles. An example of the Culica game is where players compete to get three pegs of the same colour in a diagonal row, on a face or four straight over two faces.
Another Culica puzzle example is to cover the cube so that no two pegs of the same colour are touching anywhere, even diagonally. There is only one solution in this instance (ignoring swapping colours).
Captica is also producing upcoming board games whereby pieces of four colours are placed on a board to play games and puzzles. For example, players need to get rid of all their counters by creating structures called molecules.
The firm has also produced a new variant of poker, using coloured cards instead of traditional cards.
Captica wants to licence its games, either individually or as a bundle.
Captica says its games and puzzles are a revolution in the sector, and are suitable for casual gamers and puzzle solvers as well as experts.
Destination Board Games 023 9270 4040
Destination Board Games' latest release is the Destination London Travel Edition.
It is a one-eighth of the usual size of Destination London and plays in a third of the time. Destination says its enhanced gameplay makes it exciting and competitive.
The box is A5-sized (measuring just 35mm high) with an A4 board. Road segments still accommodate the original taxis with colour-coded Destinations.
The company says the travel edition is great for quick games in small spaces.
A four-player game takes about 20 minutes to complete. It's an ideal compact game to play on holiday, take as a souvenir or have as a stocking filler.
The travel edition of game is priced at £9.95 and is for two to four players, aged eight and over.
Jumbo 01707 289289
Jumbo Games is expanding its portfolio ahead of Christmas.
The board game and puzzle specialist is adding to its Wasgij range with the launch of Cone-gestion and Christmas Getaway. Wasgij is the number one adult puzzle brand (source: NPD FY 2011), which challenges puzzlers to use their imagination to complete an image that is different to that shown on the box.
Jumbo has also produced two 625-piece puzzles entitled Ballroom Dancing and Painters Painting, with the emerging painter James Milroy.
Enhancing its impressive portfolio of children's games and puzzles, Jumbo has launched Stratego to target the boys market.
With a sci-fi theme, the battle game features fresh and modern artwork and allows two gameplay options – a normal and a quick play mode, making it easier for new players to adopt.
Other puzzles and games to hit stores ahead of the festive season include a brand new 3D Peppa Pig Fairground Ride Game and Everything's Rosie Raggles Reporter Game. The latter features a toy camera enabling children to take pretend photos of their favourite characters.
Jumbo has also signed a licence for Bananas in Pyjamas to produce a 35-piece puzzle assortment and a four-in-one shaped puzzle aimed at three to fives, available for Christmas.
Ravensburger 01628 500 000
Pre-school puzzles and games remain at the heart of Ravensburger's range.
The 'My First' puzzles range, developed for youngsters aged 18 months and over, bridges the gap between playtrays and conventional jigsaw puzzles, and includes four puzzles made from super-thick board. Consumers can choose from popular characters Minnie Mouse and Thomas & Friends, plus colourful generic titles too.
Once children have developed confidence in simple puzzling, Ravensburger recommends its four-in-a-box licensed puzzles, including popular characters Jake and the Never Land Pirates, Mike the Knight, Octonauts, Thomas & Friends, Minnie Mouse, Mickey Mouse Clubhouse, Disney Princess, Hello Kitty and Dora the Explorer.
New for autumn is a range of simple games based on more favourite characters. Suitable for ages three and up, titles include the Mike The Knight Treasure Hunt Game, Thomas & Friends Roads & Rails Game, Octonauts Sea Eels and Ladders Game, Minnie Fashion Mouse Game and Hello Kitty Fun Day Out Game.
Ravensburger's Memory brand is now also available in a 'mini' format, again featuring popular characters like Moshi Monsters, The Amazing Spider-Man, Disney Cars and more. The classic picture-matching game is a fun way to develop memory and picture matching skills, and it's also a game where youngsters can readily beat adults.
The In Thing 0845 365 3030
Distributor The In Thing has recently debuted a new range of Puzzle Erasers focusing on both the huge Angry Birds and Moshi Monsters licences.
Measuring approximately 3cms in height, each of the collectable Puzzle Erasers come in a variety of guises, featuring the most iconic characters from both of the huge entertainment properties.
The unique erasers are both practical and fun for kids who want to get to grips with their favourite characters. Imagine a puzzle eraser as a jigsaw – each eraser divides up into multiple parts which then need to be put back together.
But while being a puzzle, the eraser is still fully usable for getting rid of any pencil mistakes kids might make.
Each pack of three Angry Birds Puzzle Erasers are priced at £2.99 and each pack of four Moshi Monsters is available for £3.99. Both are essential back-to-school products, says the firm.
Orchard Toys 01953 859525
Monster Catcher is a matching game from Orchard Toys for children aged over three years old.
The box's strapline reads: "How many monsters can you catch in this fun colour-matching game?"
"But be careful – the monster catcher is waiting to take them from you".
Orchard says the game will help develop kids' matching and counting skills, encourage social interaction and help them to follow instructions and take turns. Monster Catcher also links to the National Curriculum and Early Learning Goals.
According to reviews coming in from mummy bloggers, Monster Catcher is being received 'extremely well' by their children, and even the mums enjoy playing it, too.
Orchard is keen to inform the trade on its Twitter account @OrchardToys which contains blogger reviews and more information.
All Orchard Toys products are made in the UK from 100 per cent recycled board. They have bright, colourful, chunky pieces for little hands to pick up. And in the case of a mishap, they have wipe-clean surfaces, too.
Spin Master 01628 535000
Spin Master says it is delighted to venture into the games market, with the firm offering a selection of fun, fast-paced games.
Autumn sees the launch of Hedbanz for kids, the best-selling, quick question game of 'Who am I?' in which players ask yes or no questions to figure out if the cartoon on their head is an animal, food or object. The winner is the player who correctly guesses what they are first.
Hedbanz will be supported by a heavyweight TV campaign throughout October and November, alongside an extensive PR programme. There is also a trickier Hedbanz for Adults version launching.
From the app Temple Run comes two great family games. Aimed at kids over eight years old, the electronic board game and the fast action electronic card game require players to keep on their toes as they follow the instructions called by the Temple Idol. They must beat him against the clock, whilst being chased by evil demonic monkeys.
Kids love gore and gross humour – and Dr. Dreadful's Scabs and Guts game has bucket loads of both. The player with the cleanest fingernails always goes first, as players answer gruesome questions about science and the anatomy. They learn lots of fun facts along the way.
Do parents really know everything? Or do the kids call the shots? Beat The Parents puts both kids and adults knowledge of the other generation to the test. Players answer lots of silly questions as they make their way across the board. This is aimed at families and kids over six years old.
Gen42Games 01707 655 045
Gen42 Games is now distributing its own games in the UK. The plan is to introduce one game at a time until the company has incorporated a whole line.
Over the last ten years Gen42 has established a growing successful international market and says it would now like to transfer that success to the UK, starting with the introduction of a new travel version of its star product Hive, simply called Hive Pocket.
Hive Pocket was recently added to Gen42's line of strategic board-less games, debuting at the Nuremberg Toy Fair earlier this year.
It is the seventh addition to the Hive family since the first wooden edition of this successful game back in 2001.
Since then Hive has seen many incarnations, from an iOS App to a black and white classic edition.
Hive Pocket includes the two expansions to the game, The Mosquito and The Ladybug, which would normally be sold separately.
Apart from that it is the very same award-winning game, but just smaller and cuter.
Haba 0161 304 9555
Traditional gameplay from Haba continues to thrive in 2012 with many new popular puzzles and jigsaws.
For a rainy day activity, Haba has a range of 'beautifully illustrated' My First Games which are suitable from age two and up.
New for this year is Fish Catching, a wooden fishing game where children use the rod to catch the many sea creatures in the aquarium.
This joins Ding Dong Forest, which is a musical game where little mouse Mia experiments with sounds and rhythms to decide which instrument she should be playing.
The Orchard range also includes a vast array of cards, puzzles and educational games that are designed to stimulate a child's development.
Suitable for children aged from two years old, My First Orchard includes large fruit pieces and colourful trees, from which fruit must be harvested before the hungry crow steals them.
The stimulating game is ideal for solo play or co-operative activity for smaller groups of children.
Available as either a Giant Floor Puzzle, card game or Discovery Puzzle, the Orchard collection caters for all types of gameplay.
Flair 020 8643 0320
Flair has a board game based on the hit Nickelodeon TV show – House of Anubis. It is in fact the first House of Anubis product in the toy category in the UK.
The game board echoes the English boarding school from the TV series. The rooms and corridors are pieced together like a jigsaw puzzle, so the game is different every time.
The aim of the game is to collect the hieroglyph tokens while avoiding the creepy caretaker and other pitfalls. The first player to collect six tokens and get back to their bed is the winner.
However, it is not that easy. Draw an action card on each turn and use it to help yourself or sneakily obstruct
your opponent.
Coiledspring Games 0870 446 1515
Coiledspring Games says it is thrilled to announce the exclusive UK launch of a new collection of Wrebbit 3D puzzles with a magical twist.
Just in time for the release of The Hobbit: An Unexpected Journey, the new The Lord of the Rings 3D jigsaws are ideal for all enthusiasts who want to create the magic of Middle Earth in their very own home.
Coiledspring is also supplying Ligretto Football from Schmidt.
The brand new game combines the best features of Ligretto with the excitement of a real football match, to create a team game everyone will have a huge amount of fun playing.
In the fast-paced game, teams must race against each other to score goals on the card pitch.
Meanwhile, the Think Fun range of family games is now exclusively available from Coiledspring Games and includes the Zingo line of games.
Coiledspring also has a new addition to Rory's Story Cubes Max, and releases from Gigamic and Gamewright.
Clarendon Games 020 8946 3085
Clarendon is focusing on three products – Perigon, Perigon Marble Set and Market Meltdown.
Instead of watching a financial crisis wreak havoc, in Market Meltdown (£29.99) you get to actually be one of the daring, high-flying traders. It's game only for those with nerves of steel – are you slick and cool enough to resist the widespread panic and make a fortune?
Perigon (£39.99) is a two-player strategy board game which combines the complexity of Chess with the accessibility of Backgammon. 'Perigon' means a 360-degree angle. Set up the game's unique board and players will quickly get drawn into an 'enthralling world of angles and edges requiring all-round foresight and tactical imagination'. A special Marble Set of Perigon is available for £498.
Gibsons Games 020 86618866
Fans of Downton Abbey are in for a treat, as Gibsons has announced the launch of the new 1,000 and 500-piece Downton Abbey jigsaw puzzles.
They depict favourite scenes from the show including cast members Dame Maggie Smith and Hugh Bonneville.
The company says its first Downton Abbey puzzle – which launched last autumn – was 'literally swept off the shelves' and similar demand is expected with this latest launch.
Gibsons' Limited Edition Proud To Be British jigsaw puzzle commemorates the Queen's Diamond Jubilee weekend, and features some of the most memorable highlights of the occasion, including the Red Arrows fly-past and the 1,000 boat flotilla. Each Proud To Be British jigsaw puzzle comes with a serial number certificate creating a highly collectable, patriotic souvenir.
The Queen was also reportedly spotted with a 1,000-piece Gibsons jigsaw while on holiday depicting a 1950s shopping basket.
Also new from Gibsons is the annual Christmas Limited Edition 2012 Jigsaw Puzzle Christmas Shopping depicting the local department store where shoppers are laden with parcels.
Lego 01753 495000
Lego describes Creationary (£24.99) as 'the ultimate family game', where players build an object and others have to guess what it is.
Players roll the Lego dice to select a building category – vehicles, buildings, nature or 'things' – and can choose one of three difficulty levels. It is aimed at ages seven and up.
For Star Wars fans, the Battle of Hoth strategy game (£24.99) follows the fight between Darth Vader's and Luke Skywalker's forces.
It's for two or four players aged eight and over. Then there's Lego City Alarm (£14.99), where thieves have to escape with money without setting off an alarm, while the police have to catch up with them. This is for two to four players aged over six years old.
Finally, Life of George (£29.99) brings Lego bricks to Android devices such as the iPhone, iPad and iPod Touch. Players receive challenges on their device before building with real Lego bricks.
John Crane 01604 77 49 49
Taxing young minds is easy with the array games and puzzles from Sevi by John Crane.
With an underwater theme, the Sea Puzzle Cubes include nine illustrated cubes featuring sharks, deep sea divers, mermaids and other sea creatures. They encourage early matching skills and picture recognition.
There are also Farm Stacking Cubes, the Stacking Pull Along Clown, Stacking Animals and Sailor Stacking Tower that promote hand-eye coordination, matching and sorting skills.
Sevi also has the Farm Play Puzzle, Transport Play Puzzle and City Play Puzzle. Each game is three-dimensional and provides matching and sorting opportunities, as well as ideas for story telling. All the pieces fit inside the play board, which, with its lid, doubles up as a storage box.
If a more traditional game is called for then the Classic Games Set features four classic board games in one box – Ludo, Checkers, Mill and Game of the Goose. There are also Dominoes and a selection of memory games, too.
Sevi is just one games and puzzles collection from John Crane. Tidlo also presents a huge choice with items such as My First Shape Matching Puzzles, Shape Puzzles and Sounds Puzzles.
Mega Puzzles 01844 350033
Mega Puzzles is taking puzzling to a whole new level with the launch of its first ever Skylanders Giants puzzle range, on shelves from October.
The line, for ages five and over, lets children experience the magic of the new Skylanders Giants video game. It features pocket-size blind packs, panoramic, foil collections and multipacks.
Mega Puzzles says the blind pack series will appeal to children and collectors alike. It features six popular characters straight from the game, which encourage children to swap with their friends.
The six Mega Puzzles Skylanders Giants Collect & Connect 80-piece puzzles can even be connected together to create one large puzzle.
Offering an extra element to the puzzling experience, Mega Puzzles is also introducing the 100-piece Mega Puzzles Skylanders Giants Foil Puzzles, featuring unique foil enhancements that help bring the characters to life.
The 150-piece Mega Puzzles Skylanders Giants Panoramic Puzzle allows children to bring their favourite Skylanders characters to life in a big way. It measures 21 inches by seven inches and features a collection of characters from Skylanders Spyro's Adventure and Skylanders Giants.
The Mega Puzzles Skylanders Giants 8 in 1 Multipacks consist of eight 100-piece puzzles. The assortment includes two titles encompassing 16 characters.
Hornby 01843 233525
Olly The Little White Van, created by Ideas At Work, is a highly creative 3D computer animated TV series for pre-school children on CITV. It is voiced by double BAFTA award-winning, and much loved, children's presenter Justin Fletcher MBE. Olly is a helpful and playful character who gets involved in numerous adventures.
The international master toy partner, Hornby Hobbies, has released a range of quality jigsaw puzzles under its re-launched Corgi Toys sub-brand.
They are available now and priced £2.99, £4.99 (two-in-a-box) and £5.99 (four-in-abox).
Green Board Games 01494 538999
Green Board Games has a whole host of fresh toy products available in time for Christmas, including the hotly tipped BrainBox Horrible Science Blood and Guts range.
This special edition follows the success of Vile Villains, the winner of Gift of the Year for products under £10 at February's Spring Fair.
Blood and Guts contains 54 cards, for players to learn how gooey and gross our guts actually are. Meanwhile, the BrainBox Teddy Bears includes 55 cards with hand-painted images illustrated by Dorset designer Rikey Austin.
They depict nursery rhymes and well-known children's themes.
Other Green Board Games products include BrainBox Action Stations, BrainBox Once Upon a Time, Dinosaur Dinners, Syl-la-bles and Family Talk.
You can follow Brain Box Games on Facebook at BrainBoxGames or on Twitter @BrainBoxGames.
Rainbow Designs 01329 227300
Best-loved children's characters from literature and the small screen are set to take the floor thanks to Rainbow Designs' new collection of giant floor puzzles.
These star CBeebies favourites Abney & Teal and Charlie and Lola, along with Wibbly Pig, Elmer and Stripy Horse.
Each giant floor puzzle features 24 large-sized pieces, making it perfect for toddlers and pre-schoolers, who can flip the pieces to discover another fun scene on the reverse. This can be coloured in to create a unique work of art.
Rainbow's giant floor puzzles are presented in colourful illustrated sturdy gift boxes with a strong rope handle for easy transportation and storage. When pieced together, the puzzles measure 49 by 68.5cm.
Other fun puzzles and games from Rainbow include the Abney & Teal Mix and Match Card Game, the Lola Loves 'Playing Games' Wooden Dominoes and the Wibbly Pig Peg Puzzle and Matching Card Game.
Vivid 01483 449944
Vivid's portfolio includes new 'karabiner style' Pocket Games (£9.99). And look out for the Monstro City Game (£24.99) from the fastest-growing UK licence Moshi Monsters. It lets kids race around Monstro City, collecting items on the way.
New for autumn/winter is the Moshi Mania Puzzle (£9.99), a collection of every crazy monster you can think of all in one puzzle with 250 pieces. The Secret Reveal Puzzle (£14.99) is a 200-piece puzzle with a secret surprise.
It's time for an adventure with Baby Jake and the Race to Space game (£9.99). Baby Jake's friends race through outer space to join him in the rocket – featuring simple gameplay for pre-schoolers. Finally, the Cloudbabies line includes a 3 Jigsaw pack (£4.99).
John Adams 01480 414261
John Adams continues to offer an extensive portfolio of games.
Telestrations is the 'laugh out loud' party game that has players simultaneously drawing what they see, then guess what they saw, to reveal hilarious and unpredictable outcomes. With a huge marketing campaign and 2,400 words to choose from in the game; casual, family, party and strategy gamers alike will be sharing the laughter and spreading the fun.
A new game for autumn/winter is Othello (£24.99) – the internationally acclaimed fast-paced strategy game for two players. The aim is to trap and capture your opponent by placing your disks on the board and then 'sandwich' at least one of your challenger's pieces to turn their disk to your colour.
Dragon Chase (£17.99), the new children's action game, also offers great family fun. Players must escape with their treasure and avoid the wrath of the Dragon's swooping head. It's for two to four players aged over four years old.
Other John Adams games include the Classic Rubik's Cube, Rubik's Race, licensed ITV product The Cube, The Chase, Don't Panic and Dream Phone, where users have to listen to clues and find out who has a crush on who.
Fiesta Crafts 020 8804 0563
The Dr Baffler's 24-piece wooden jigsaw lets kids assemble the large chunky wooden pieces back into the fun picture, then break it apart and start all over again.
The puzzle comes on a wooden backing board with a recessed frame to help youngsters position pieces easily.
Also available is a wooden shelf display to hold up to eight puzzles, including the Muddle Puzzle range. Each of the four puzzles has a child-friendly design featuring animals and people. Themes include Princesses, Knights and Dragon, Farm and Wild Animals.
The puzzles are the younger cousins of the Dr Baffler muddle puzzles with colourful repeating patterns.
Dr Baffler Muddle Puzzles are illustrated with a choice of Knight,Princess, Sealife and Farm designs. Each theme comes as either a nine-piece or 22-piece set.
Marbel 0845 6000 286
Marbel continues to expand its games and puzzles portfolio with Hape's educational range.
'Love Play, Learn', Hape's new brand message, sums up the nature of its range of 36 bamboo games, puzzles and toys. Hape says it works to very high standards with 'exceptional' attention to detail. Hape Bamboo has minimal environmental impact. Hape's Magnetic Mosaic (£29.99) has won two awards on its own. The toy offers an activity involving design, shapes and colours to create a decoration or picture, using different coloured mosaic bamboo tiles. These can be placed on the magnetic metal board.
For two players there's Pallina (£32.99), which is inspired by an old classic. Hape has made the toy in bamboo for younger players. Coloured balls and coloured sticks make it an attractive game for ages three and up.
Then there's Rapido (£19.99) which doesn't give as much time for puzzling – it's a race against time to match colours. With an emphasis on motor skills, colour recognition and hand-eye coordination, this one will get players racing against each other to match the colour sticks.
Cheatwell Games 02392 524 098
Animate It! is the DIY stop-animation game developed by Cheatwell Games, in association with Aardman Animations.
A finalist in The Licensing Awards 2012, Animate It! allows novices to create animations on their own computer that will astound both family and friends.
Other new products just launched for the Christmas season include Giant Games, a series of heavyweight party games in stylish packaging and at a cracking price, and Mini Masters Puzzles. These are tiny but taxing jigsaws featuring classic masterpieces.
Create Your Own Jigsaws is for the very young. And there are new styles in the hugely successful 3D Magna Puzzle range. With Tension still one of the nation's favourite board games and Plop Trumps catching up fast, there's more than enough to raise a Christmas cheer from Cheatwell Games.
University Games 01359 243900
The return of Poppin Hoppies was a winner at Toy Fair 2012.
The action game – aimed at five to nine year olds – features spring-loaded characters that are pushed down, then randomly pop into the air to be caught by players.
University Games is investing in a TV campaign during the autumn, complemented by a three-month autumn sponsorship deal with the children's channel Tiny Pop.
University Games' established favourites, 5 Second Rule and Smart Ass, will also be supported by TV ads.
The celebrity specials of BBC1 hit quiz show Pointless has increased demand for the board game. And the launch of the travel version of the Pointless game with 120 new questions has given consumers more options and driven sales.
The Gruffalo Word Rhyming Game is a high volume seller, and the New Hide and Seek Mini Game will be introduced for A/W 2012.
Halilit 01254 872454
The Scotchi range of brightly coloured and illustrated games and puzzles feature pieces that are not only washable and flexible, but also have a clever hook and loop fastening for secure attachment.
The pieces are large and easy for little hands to hold, and are a fun way for children to learn about everything from recognising first colours to understanding the world around them, playing on their own, with other children, or with their parents.
Many of the Scotchi products are suitable for youngsters aged 18 months and over, including the Shapes and Colours set which gives an early introduction to the concept of different colours and shapes, and how they are found all around us.
The range features storyboards depicting different scenes and games including Animal and Opposites Lottos, Supermarket and Fishing Games and the giant-size My First Clock.
Golden Bear 01952 608308
Golden Bear's dominoes and jigsaw puzzles combine traditional favourites with top children's licences. The company says they are 'perfect' for pre-school game playing.
The game of dominoes has been a favourite pastime for generations and Golden Bear has a collection of high quality wooden sets that will last for years to come. Each set comes with the necessary 28 chunky wooden pieces ideal for small hands.
Available in Banana in Pyjamas, Ben and Holly, Peppa Pig and Poppy Cat guises, Golden Bear says there is something to appeal to everyone, so hours of fun can be had playing this numeracy developing game.
Asobi 01628 200077
Asobi says it is delighted to be the official UK and Ireland distributer of Boikido, a French brand of modern, wooden toys.
Bokido toys are 'as solid and well-made as they are long-lasting and colourful'.
Boikido believes children need simple toys that encourage them to actively use their imagination and develop through active play, stimulation and fun.
The bright and engaging range has set out to offer parents a fantastic variety of wooden toys, to suit children from one to five years of age.
It gives them hours of fun, while also teaching them valuable lessons such as how to count, make music and tell the time among others.
Boikido's collection of bright puzzles is guaranteed to keep children entertained for hours, as they put the pieces together that will help them learn how to tell the time, fit shapes together, geometrics, how to count and the alphabet.
Galt 0161 428 9111
Ants In Your Pants is a colour matching and counting game, and While the Cat's Away is a numbers game.
The range also includes What's in the Fridge?, a memory game for two to four players, and Gone Shopping, which designed to help young children develop memory skills and encourage language development.
All Aboard includes two games in one, while Pirate Pursuit has its own pirate galleon to sail around the treasure island. Finally, Whatever Next offers 'hours of fun for all the family' with over 200 hilarious activities.
History Heroes 07956 666 752
History Heroes is a new card game designed to test the whole family's knowledge of British monarchs, from William the Conqueror in 1066 to Queen Elizabeth II.
Created by Harry Hastings, a teacher from Sussex, the game provides a fun, interactive way for children to learn about the kings and queens of England. Players are challenged to identify monarchs either from a series of facts, from a portrait or from the dates of their reign, thereby capturing their opponents' cards in the style of Top Trumps.
With a total of 42 monarchs to identify, each with six different clues, the game is for all ages.
IMC Toys 01904 720908
One game sure to get children giggling is Bum Face.
Its slogan? "Bum Face is here to test your skills, be faster and save your bum!"
It is a game for four players where you have to hit your opponent's face and knock them out of the ring, and save your own bum by hitting it.
IMC says it's a 'really exciting game' that offers hours of fun and two levels of difficulty. All you have to do is choose your colour to begin.
Zoobookoo 01473 735346
ZooBooKoo expands its card game range with wipe clean word searches. The player to find all their words first wins the cards used in that round.
Each pack has 900 words to find. There are 100 wipe clean reusable word searches and two dry wipe pens.
There are packs for kids aged five-plus and seven-plus, with two skill levels each.
The RRP is £7.99 and the trade price is £3.33, with the products available to stock in packs of six.
Word Searcher is available now.
Wooky 0151 494 3821
Wooky Europe says it has the perfect solution to the enigma of mathematical equations, with its range of Carol Vorderman's Mathable games
and puzzles.
Carol Vorderman's Mathable is a game of logic, strategy and skill for two to four players that combines maths skills with fun. Players must use addition, subtraction, division and multiplication to generate the highest score and beat their opponents. It is for ages nine and over. Carol Vorderman's Mathable Deluxe Wooden Edition is designed to put even the keenest player to the test. This version includes the game board, four wooden tile racks, 108 wooden tiles and a deluxe tile bag.
The classic game of dominos is given a modern twist with Carol Vorderman's Mathable Domino.
This gives your brain a workout with 57 numbered dominos.
Card games will never be the same again thanks to Carol Vorderman's Mathable Quattro.
Designed for up to four players, this is based around a four-card square and uses mathematical skills in a testing game of quick thinking and strategy, guaranteed to cause a commotion.
For younger members of the family the Carol Vorderman's Mathable Junior game is a great way to encourage and develop numeracy and mental arithmetic skills. Children aged 5 and up compete to get the highest score.
Alyss Toys 01285 762039
Ministeck is Alyss Toys' latest contribution to the games and puzzles toy sector.
Ministeck enables users from ages seven upwards to create their own designs, using coloured pixel pieces and a template onto which the pieces are firmly affixed. Alyss will start with the Ministeck Original range and sees Q3 as a significant opportunity for establishing the brand in UK retail.
An Alyss Toys statement reads: "Our intention is to offer several skus within this range that will appeal to a wide range of skill levels as well as budgets.
"Customers can select from a pocket sized puzzle with a pocket money price of £3.99 right up to the largest puzzle with 3,100 pieces which will retail at £24.99."
Ministeck masterpieces can be kept and displayed using the accompanying hooks which come with each puzzle, or the pieces can simply be removed from the template and started again from scratch.
Bigjigs 01303 250400
Bigjigs Toys has announced a new line of products that are now available including a variety of exciting puzzles.
The company says its cute Dressing Boy and Dressing Girl Puzzles are 'perfect' for fashionable kids.
Children can change and match the different clothes to make the best outfit. The company says that it is ideal for children aged one year plus, and the puzzles are great for developing coordination and dexterity.
Bigjigs Toys has also designed a new colourful Chunky ABC Puzzle. It is pitched as being ideal for children aged 18 months plus.
The brightly coloured A to Z letters allow children to learn the alphabet in a fun way, whilst developing their skills.
For more information on the range visit www.bigjigstoys.com.
Underground Toys 020 7801 6325
The retail market has gone 'la la' for Lalaloopsy, says Underground Toys.
The Lalaloopsy brand is based on the MGA collectable, magical dolls that come to life when the last stitch of their fashion is sewn.
They have unique personalities and background stories drawn from the fabric used to sew them. Underground says the brand promises to be 'the puzzle piece that the girls' market has been missing in an increasingly strongly dominated world of boys toys.
Underground Toys is excited to be releasing a wide range of Lalaloopsy puzzles and games in time for Christmas. The Lalaloopsy range includes floor puzzles, the Silly Surprises board game, memory games, pop-up games, fashion games and puzzles, foil bag puzzles, lenticular puzzles and more.
These all-new Lalaloopsy games and puzzles will be the 'perfect indoor activities for the rainy winter and spring seasons to come', says Underground Toys. In addition, there is also a Lalaloopsy animated TV series,
which is launching spring 2013 worldwide.
RMS International 0161 727 0711
RMS' flagship brand Grafix is an extensive range of children's games, toys and puzzles. It covers children's stationery, craft and activity products.
There are both standard and 3D puzzles in its range.
Products include the 45-piece Helicopter Rescue Puzzle, 3 in a Box Transport Floor Puzzle and Ballerina Kingdom 3D Floor Puzzle, which boasts a kingdom that pops up in front of the child's eyes. The firm also has the Bumper to Bumper Puzzles, where users must piece together the traffic on a busy road to see who is driving in the day and the night.
In addition, there is the Giant Animal Alphabet floor puzzle, the Shopping Centre 3D Puzzle and the 3D Bugs Puzzle.
Kids can let their imagination run wild with the Build Your Own Town Track; watch a group of superheroes come to life in the 3D Superhero Puzzle and solve the car-themed Super Race Puzzle.
The products are priced from as little as £2 to £5 and are designed to inspire creativity in children.
Circa Circa 07984 623159
The award-winning maker of the About Time board game is launching a new range of cards games aimed at the junior market.
Circa Circa is launching Just Guess – a fast-moving funny card game which combines elements of speed, strategy and timeless trivia, with subjects ranging from dinosaurs to street fashion.
Publisher Ian McGill comments: "Just Guess distils all the best elements found in great board games and card games – it's easy to learn, takes ten minutes to play and has enough strategy to keep you guessing and coming back for more.
"We've got to know what consumers and retailers want in a game and Just Guess has it in spades. The feedback has been excellent."
Up to seven Just Guess titles will launch at next year's Toy Fair at London's Olympia and hit the shops in spring 2013.
These will include Dinosaurs, Planes, Time, Street Fashion and Sweets.
Just Guess! can be played by as few as two, or as many as 20 players, aged from seven to 107.
It will be priced at £9.99, with Just Guess only be available from Circa Distribution.
Source:
http://www.toynews-online.biz/features/589/SECTOR-GUIDE-Puzzles-and-games