Recently, Unilumin successfully completed 4080sq.m ultra huge indoor LED display in Water Park of Chengdu Global Center. As reported, this project adopts Unilumin P25 LED display with size of 30m(H) *136m(W). It is the unquestioned King of indoor LED display.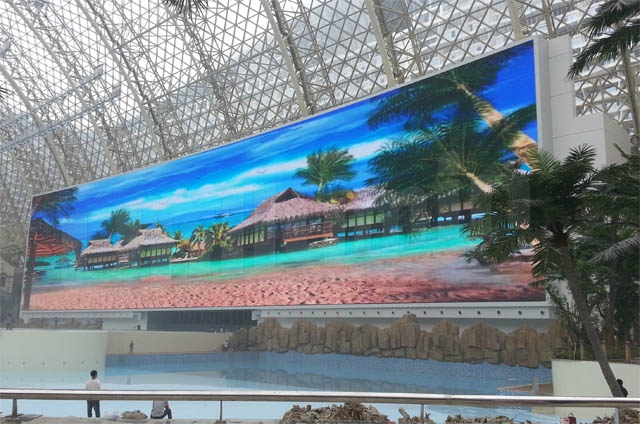 Paradise Water Park , located in Chengdu Global Center is the largest glass construction in China with 30,000sq.m glass ceiling arching. There are 500 kinds of marine creature living in the pool of water park . It contains artificial seen and island. Turist can enjoyed various water entertainment options, such as diving, swimming and surfing etc. The New Century Global Center in Chengdu,Sichuan province, is a staggering 19million sq.ft. and contains shoppingcentres, a Mediterranean village, a water park, an ice-skating rink, andmultiple hotels. As the saying goes, the right saddle must is set on the right horse. As an important part of the water park, the largest indoor LED display project is required to be built with high international standard. Considering the rich experiences in national class large LED display projects such as Tian'anmen Square and Shanghai Expo etc, Unilumin is designed as the supplier of this project.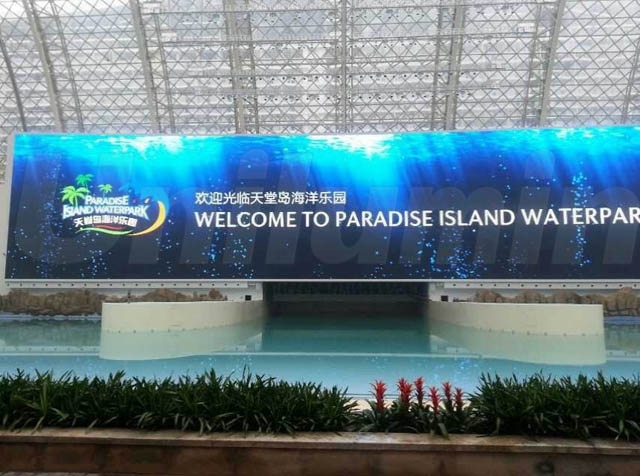 This ultra large screen is made by P25 outdoor series LED display with high IP grade. The power consumption of the screen is less than 350w/h per square meter which can save 51% energy compared with traditional ones. And it still keeps the brightness at 6000cd/㎡.
This project is known as the largest indoor LED display in the world, at present, as well as the new milestone in the history of Unilumin's technological development.
Source:
http://www.led-search.com/news-view-2010.html