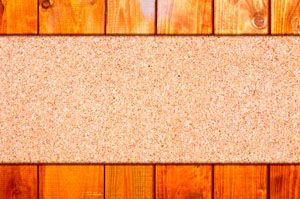 Are you in the process of redoing your home? You also want to change the flooring of the house. There are different types of flooring from which one can choose. Stone flooring has been in use for a very long time, so is tile flooring. In the last few years hardwood and engineered wood flooring and laminate flooring became very popular. However, a number of people have now turned to green flooring. Cork and bamboo flooring are among the green flooring types. As a matter of fact, one of the best wood flooring types is cork flooring, as cork is harvested without killing the tree. There are a number of cork flooring benefits, due to which more and more people are shifting to cork flooring.

Benefits of Cork Flooring

Cork flooring is a warmer flooring, as compared to the other flooring. It is known for its insulating qualities and resiliency of carpets. Cork flooring is soft, because of the air trapped inside the cellular structure of cork, which gives natural shock absorbing feel. Therefore, cork kitchen flooring has become very popular, as it provides a lot of relief to feet, back and legs. It feels warmer as compared to most of the other flooring, which also makes it more comfortable as well.

Natural cork flooring is water resistant. There is Suberin in cork, which is waxy substance. It makes cork impervious to liquids. The wax substance also ensures that cork flooring does not rot, even if it comes in contact with water. As a matter of fact, Suberin is amongst the most natural sealants.

The cork flooring pros and cons include, its resistance to insects and microbes. Once cork flooring is installed, it will be installed there is no infestation of termites, moths, etc. These insects are not able to penetrate into the flooring. Microbes are not able to survive on these floors, which makes cork flooring germ resistance as well. Therefore, many families with young children opt for cork flooring. It is resistant to moths and mildew as well. Therefore, it is best used in family rooms and basements, where moth and mildew infestation is a common occurrence. However, if a chunk of the flooring is removed, the hole in the flooring will remain and make it look ugly.

The cork flooring benefits and advantages include durability and easy to maintain. This flooring is very durable and can be used for public buildings as well. In other words, if you have a question about cork flooring durability, then you may want to opt for one at home, as cork flooring installed in public places since 1800's are still in best shape.

The cork flooring reviews give cork flooring very good reviews. Walking on these floors does not make a lot of noise. Cork inherently has natural sound absorbing properties. Therefore, a lot of people have chosen to get cork flooring installed on the second floors as well. Cork flooring is installed below hardwood, laminate, tile flooring, etc. so as to create a sound barrier.

One of the benefits is that cork flooring is low on maintenance. However, it is important you take some care of the flooring to increase the life of the flooring. Cork floor should be shielded from direct sunlight, heat and humidity. Cleaning the floor at regular intervals will also help in enhancing the life of the flooring.

Buying, installing and repairing cork flooring is rather easy. It is often easily available in the neighborhood outlets. There are many people who undertake repair of their flooring on their own as well. Alternately, there are dealers, who can also get the flooring repaired at much lower cost. It is important to note that it is not a new product, but a product which has been a part of the American household for a very long time.

After reading the benefits, I am sure you have started considering getting cork flooring installed. However, it is important not to confuse cork laminate flooring with cork flooring, as they are not the same. Make sure you have conducted your survey well. There are finished as well as unfinished cork available, which can be used for flooring.
Source:
http://www.buzzle.com/articles/cork-flooring-benefits.html