A group of people watch the grand lighting of the Bay Lights art installation on the San Francisco-Oakland Bay Bridge on March 5, 2013 in San Francisco, California.
Designed by artist Leo Villareal, the Bay Lights is the world's largest LED light sculpture, spanning 1.8 miles long and 500 feet high with 25,000 individual LED lights supplied by Philips Color Kinetics. The installation will be on display daily from dusk to 2 a.m. for the next two years.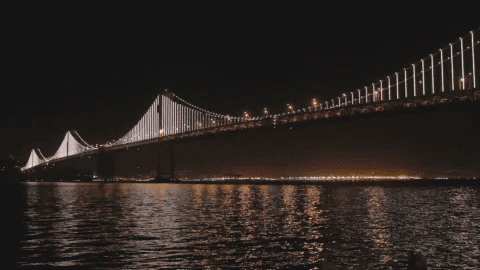 For The Bay Lights, Villareal developed custom software to generate the glowing patterns and formations that will illuminate the bridge from dusk to midnight. Taking inspiration from patterns found in nature and the Bay's surrounding environment -- the waves and wind in the San Francisco Bay, the traffic flowing over the bridge -- Villareal's algorithms will produce unique configurations that will never repeat.
Villareal, who recently exhibited two high-profile public art installations in NYC -- Madison Sq. Park's Buckyball and the Bleecker Street subway station's Hive -- is known as an LED artist, and has been working in the medium of light sculpture since the late 1990s.
Source:
http://www.led-search.com/news-view-1559.html