There are many reasons why you might want to go shopping for one of the best dog houses on the market. When you think about how to buy a dog house, there are a few things you will need to consider as you look at the different dog house brands and the types of dog houses available.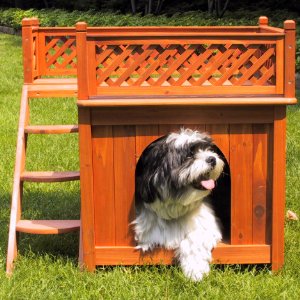 A basic decision to be made up front is whether to get a plastic, a wood, or a metal dog house.Wood dog houses tend to be more substantial than plastic ones, they offer more design add-on possibilities, and they will provide your dog better protection against the elements. Metal is also used for dog houses. Such structures are typically known as dog "boxes" and are often used to transport dogs and provide temporary housing for shows and sporting events.
Probably the most important decision when choosing the right dog house is to pick the right size. It is normal for a dog to stoop down to enter his or her dog house. Measure from the ground to the top of your dog's back. The entrance to the dog house should be just slightly larger than your dog's back. The larger the entranceway, the less it will offer protection from the elements, so smaller can be better.
Other Dog House Considerations
Dog house roofs also vary – from pitched to single panel.
Look for one with insulated and elevated floor. The extra space underneath will give extra insulation and keep moisture away from the house and your pet.
Use cedar shavings over any other material for bedding. This repels ticks and fleas and won't let mildew and mold grow.
Not a fan or cedar shavings? Try a moisture-proof foam pad instead.
Check that the dog house provides proper ventilation.
Source:
www.made-in-China.com