Milwaukee announces a new line of writing tools called the Inkzall. We first saw these at the Milwaukee event and have to say, they are pretty neat. So what makes these markers a staple in your life? First, the markers are designed with a clog resistant tip. Which means you can write through dusty surfaces. You can even write on wet or oily surfaces. We have all had times where our permanent market won't write and becomes a useless object. How many times have the tips lost their shape or stuff gets stuck on the end, only to not work when you need it the most. With the Milwaukee Inkzall you can even use it on rough surfaces like OSB, cinder block and concrete.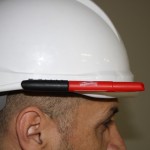 Milwaukee uses a proprietary ink for fast drying times which means you don't have to worry about smears. Milwaukee even claims the marker won't dry out quickly if you leave the cap off. Now I didn't try that with mine. Another note to this marker is you can not only keep it in your shirt pocket for easy access, but you can clip it to the side of your hard hat. The clip is designed in a way that it is easy to attach and take off your hard hat.
Not only do these markers have a writing option, but one of the markers can even act like a stylus, which means you can use it on your ipad or other devices. This is great for when you have gloves on or your hands are wet. This actually works very well.
Milwaukee Inkzall Model Options
Fine Point Black Marker (48-22-3100) – Retail Price $1.39
Stylus and Fine Point Black Marker (48-22-3101) - Retail Price $9.99
2pk Medium Point Black Markers (48-22-3102) - Retail Price $3.99
4pk Fine Point Black Markers (48-22-3104) - Retail Price $4.99
I have to say they are a cool option to the ever popular Sharpie. Sharpie still has an advantage with all the different color options, but it seems like the Milwaukee holds key advantages such as the ability to use the marker on hard and wet surfaces.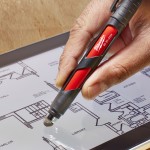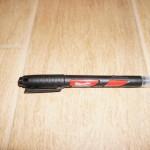 Source:
http://professional-power-tool-guide.com/2014/01/milwaukee-inkzall-marker/#comment-52897