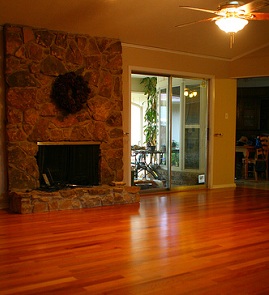 Engineered building materials have become all the rage in the building industry. These premium building materials have given homeowners greater options when it comes to the options they use in putting together their homes. What's more is they can be shipped all over the world in international containers, giving homeowners literally a world of options for their building and home improvement projects. One such material is engineered flooring.
Engineered Flooring Benefits Engineered flooring has several benefits over their solid counterparts, the most notable being the flexibility for installation. While some flooring materials are ill suited for installation in moisture prone areas, engineered flooring allows homeowners to get the same look and feel with a material that can handle the humidity—at least within reason. This is just one of the advantages that makes engineered flooring such a popular choice for bathrooms, kitchens, and basements.
Engineered Floors On The Market Today There are two basic types of engineered flooring available on the market. They are engineered bamboo flooring and engineered hardwood flooring. Both will create similar looks, but they also offer enough variety for homeowners to select the look that is unique and right for their homes.
Engineered Bamboo Flooring Engineered bamboo flooring is made by layering strips of bamboo with hardwood in order to further reinforce an already strong bamboo floor. Bamboo is somewhat more moisture resistant than hardwood, so this configuration does well in virtually any application. Engineered bamboo flooring offers the best of both worlds as it has the beauty of bamboo with the strength of hardwood, all in all making a very strong flooring material. Since bamboo is a green flooring option, homeowners can feel good about their choice in materials. Bamboo is completely sustainable, and so little hardwood is used in the manufacture of engineered wood flooring that there is no real concern for over harvesting of trees. Engineered Hardwood Flooring Just when you think the ever-present hardwood floor cannot be improved upon, engineered hardwood floors come into the picture. This hardwood flooring material is comprised of three layers, the top layer of which is a hardwood veneer. The core layer, which gives this type of flooring its great stability, is made up of hardwood, plywood, or high density fiber. These layers are glued together to make a very strong yet inexpensive flooring.
You should decide before you select your engineered hardwood flooring if you want to be able to refinish it or not. Since the veneer layer on standard floors is very thin, you'll have to purchase materials that are specifically labeled as refinishable engineered hardwood flooring. Choosing this option may allow you to refinish the floor one or two time, thereby increasing the longevity of your investment.
Transporting Engineered Materials Shipping and delivering times and methods of these materials will depend on your location and the amount of product that you are going to buy. A product by the truckload is most definitely the main means of transport for these products in North America. Overseas shipments are traditionally by international containers. You just have to check what each container's capacity is for that type of material, and then you can proceed with your order accordingly.
Shipping usually takes 6-8 weeks, depending on the quantity ordered. Once it arrives at your home or building site, you should allow the flooring materials to acclimate to the new environment by opening the boxes and letting them sit in the area for several days. Once this has been done, you'll be ready to begin the installation process.
Source:
http://www.contempofloorcoverings.com/blog/claiming-the-market-engineered-floors.html