The refrigerator is one of the most important appliances in the kitchen. Buying a new fridge is a long-term investment and one should be well informed of all of the available options before one starts shopping. Refrigerators come in a range of styles and designs, and several types are available. This means that one can find a fridge to suit most decor themes and to fit nearly all spaces. One should carefully consider the advantages and disadvantages of each refrigerator type as well as factors like capacity, look, installation limitations, and the features required before buying. Refrigerators with additional features tend to have higher price tags, so one should keep one's budget in mind while shopping. Refrigerators are available from appliance and electronics stores, and from online sources like Made-in-China.com.
Refrigerators come in a variety of styles and designs, from basic to feature-rich models.
Top Freezer Refrigerators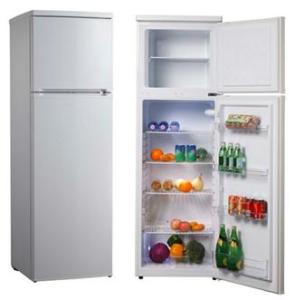 Top freezer fridges are the most popular type of refrigerator as they tend to be the least expensive. Traditionally these appliances feature a freezer on top and a refrigerator at the bottom. The freezer typically makes up about a third of the unit's total size. These fridges have a lot of room and one can easily store larger dishes. The design is familiar to most people, and these refrigerators are not as pricey as other models. However, top freezer refrigerators are not flexible when it comes to installation and they require wide, deep spaces to allow the door to fully open. Children and shorter adults may also not be able to reach items at the back of the freezer.
Bottom Freezer Fridges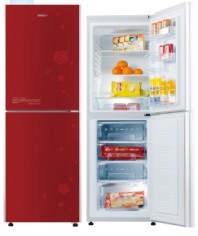 Bottom freezer refrigerators are designed along the same lines as top freezer models, but with the freezer at the bottom. The freezer section at the bottom can be designed to open like a door or pull out like a drawer. With these models the fresh food section is at a more convenient level and one does not need to bend down to access it. While these fridges are a little more expensive than top freezer models, they are still economically priced. Similar to top freezer refrigerators, they require the same type of space for installation and are not particularly flexible. In addition, these fridges may have less packing space in the fresh food section and access to frozen foods may be less convenient than with top-freezer models.
Side-by-Side Refrigerators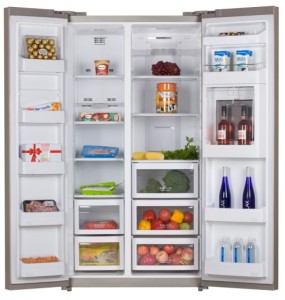 Side - by - side fridges feature refrigerator and freezer compartments that are parallel to each other, and both take up the full length of the appliance. Each compartment has a door that opens from the middle of the fridge, like the doors on a cabinet or closet. Although the refrigerator side is often slightly wider than the freezer side, both are narrower than those found in bottom freezer fridges. The narrow design is great for smaller kitchens as less space is needed for the doors to open fully. One also has easy access to both frozen and fresh foods, with a lot of freezer space. These fridges often feature extras like ice and water dispensers in the doors. Disadvantages of this design include limited space for bigger items (like frozen pizzas) and less space for fresh food items. Side-by-side models tend to be more expensive than basic fridges.
French Door Fridges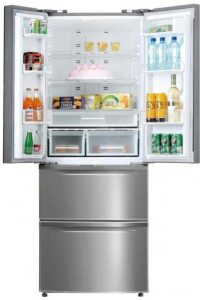 French door fridges combine the side-by-side design with a bottom freezer. Although these refrigerators are among the most expensive models, they give users the best of both worlds. Wide shelves in both sections mean that one has enough space to store anything from platters to pizzas. French door fridges are available in a range of designs, with some featuring three doors and others featuring four. Most models feature extras like through-the-door water and ice dispensers. These fridges are elegant and aesthetically pleasing, can hold a variety of foods, and narrow doors make for more flexible installation. Four-door models have adjustable cooling areas to deliver the best performance.
Counter Depth Refrigerators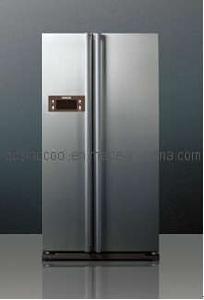 Counter depth fridges have a shallower profile than standard depth fridges. This allows these models to blend in with built-in cupboards and cabinets for a seamless look. Although they take up less space, they generally offer less storage space. To compensate for this, some models are wider. Usually side-by-side, French door, or bottom freezer fridges are also available in this design, and they tend to be more expensive than their standard depth counterparts.
Compact Fridges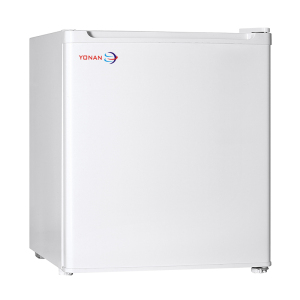 Compact fridges are miniature versions of traditional refrigerators, and are perfect for compact spaces like dorm rooms or home offices. Most have little to no freezing capacity, with some featuring a freezing compartment inside the fridge compartment. Some designer compact fridges come with separate freezing compartments like full size fridges.
Freezerless Refrigerators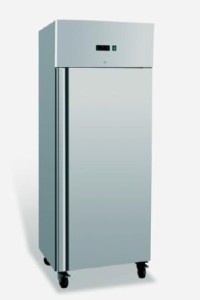 A freezerless fridge does not have a freezer compartment. The entire unit is used only for cooling fresh foods. This is a great option if one has a full-sized chest freezer for frozen goods or if one does not need to freeze a lot of food.
Refrigerator Drawers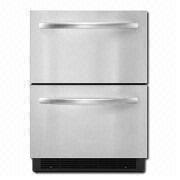 Refrigerated drawers are installed under one's kitchen countertop, like a dishwasher. These cooled drawers are pulled out to allow one access to fresh foods and perishables. Refrigerated drawers are often seen in luxury kitchens and are expensive. They cannot keep food frozen and are not energy efficient.
Wine and Drinks Coolers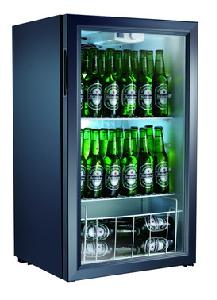 Wine and beverage coolers are designed specifically to keep drinks cool and are sometimes known as cellars. They range from basic, compact models to elaborate, full-size refrigerators with enough space to store hundreds of bottles. Top-of-the-range models feature multi zone digital temperature regulation to keep different wines and drinks at the optimal drinking temperature.
Written by Dora Men
Source:
Made-in-China.com