It turns out Picasso accomplished more with a can of house paint than most. To create some of his masterpieces, Picasso used a high quality enamel house paint because it was glossy and fast drying and didn't show brush marks like artists' paints of the time. Picasso had a tempestuous love life, but when it came to house paint, he was brand loyal.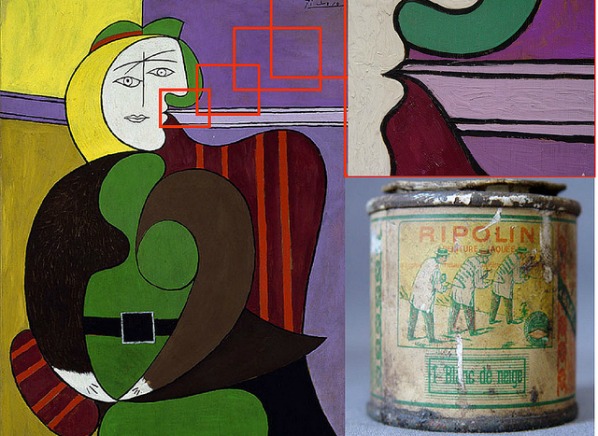 He liked painting with Ripolin, a ready mixed enamel house paint and the first commercially available in Europe, says Francesca Casadio, senior conservator scientist at the Art Institute of Chicago. She says that art historians have long known about photos showing Ripolin cans and Picasso letters that mentioned Ripolin, but until now it couldn't be proven that he used it in his paintings. The Art Institute worked with Argonne National Laboratory, part of the Department of Energy, to solve the mystery. Volker Rose, a physicist at Argonne, used an X-ray instrument—the hard X-ray nanoprobe—to get a nano-particle view of the chemical elements in paint.
Rose found that the chemical makeup of the paint Picasso used in The Red Armchair painted in 1931 matched that of decades-old Ripolin samples that researchers had purchased on eBay. The findings were published in January's Applied Physics A: Material Science & Processing. Over the years, Picasso went on to use several other house paint brands and artists' paints, but continued to paint with Ripolin, says Casadio. She added that American-born painter James Abbott Whistler was also among the first artists to use house paint and other artists, such as Ellsworth Kelly, followed Picasso.
Consumer Reports' paint experts recently put down their rollers to tell us which interior paints were best overall. A newcomer, Clark+Kensington from Ace Hardware, had the highest score of the 65 tested. Good enough for Picasso? We'll never know, but the Clark+Kensington satin enamel, $32, was excellent at hiding, leaving a smooth finish that resisted stains and scrubbing. See our interior paint Ratings for complete details.
Source:
http://news.consumerreports.org/home/2013/02/picasso-used-common-house-paint-for-some-of-his-masterpieces.html#comments