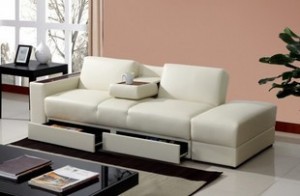 Sectional sofas can offer a lot of seating in a relatively small space. They also create a warm, conversational area. Modern sectional sofas are available in many styles, fabrics, and colors. Choose a sectional that fits your style and your space. An overly large sectional can crowd a room, but with the wide variety and adaptability of today's sectional sofas, you're sure to find one that is just right for even a small room.
Types
Sectional sofas can be curved into a half round or bent at a 90-degree angle. They can include recliners and may have a chaise attached. Or they can simply offer traditional sofa seating. Some sectional sofas consist of several separate pieces, perhaps two corner sections and a center angled piece, or even separate seat sections. These do offer more variety and may allow you to split up your sectional, if you choose. You can also have a sleeper sofa installed in your sectional sofa.
Size
Choose a sectional that fits your living space. Some sectionals are quite large and can easily overtake a room. More and more manufacturers are offering customizable sectional sofas or simply smaller sectionals. Know your room dimensions and how a sectional can fit into your space before you buy, keeping other furnishings in the room in mind. In some cases, you may need to consider whether a sectional will fit through your door or up or down a stairway. Sectionals sold and packaged in small separate units can work well in smaller spaces.
Quality
As with any piece of upholstered furniture, look for quality. Hardwood frames are a must, particularly in a large piece that will bear a lot of weight. Brand names can matter in terms of reputation and customer service. Many fine furniture manufacturers now offer sectional sofas as part of their product line. Be sure you are comfortable with the cushion and upholstery quality. Look for fabrics that will wear well when you buy your sectional sofa. Modern microfibers are ideal for many families, but good-quality stain treatment on a more formal fabric is also an option.
Styles
You can find traditional, formal, modern or just plain comfortable sectionals. A sectional sofa is likely not the right choice for a Victorian sitting room, but can work in many other spaces. Look for shapes similar to those you would choose in a standard sofa or chair. Many furniture shops allow you to custom order your sectional in the fabric of your choice, allowing you to fit your new sofa into the color scheme of your home. A modern sectional might have a gently curved end with a cushy chaise, whereas one marketed for comfort might include extra arm padding and reclining massage features.
Function
A sectional can allow you to expand the amount of seating available in a room and make arranging a space easier. If you have a large family, a sectional may allow everyone to sit together. In the case of curved sectionals, you may find that conversation or television viewing is accessible and convenient from all seats on the sectional. In a smaller space, a sectional can use up otherwise-unused corner space. If you need a big cushy couch for your family or rec room, a sectional sofa may be the right choice for you.