Which product ranges are selling well for manufacturers and why are specifiers buying them? Francis Pearce speaks with a selection of lighting manufacturers to get an idea of what's really going on in the lighting industry
"Electric lighting equipment is used throughout the UK," says the teaser for a market-research report released in March. "Lighting products are found throughout homes, workplaces, shops, hospitals, airports and sportsstadiums." Who knew?
To be fair to the authors of IBISWorld's Electric Lighting Equipment Manufacturing in the UK: Market Resarch Report, they had to start somewhere. Finding out what is really happening in a market is not so easy. Overall sales figures – the report predicts the UK lighting market will have been worth £3.1 billion in 2013–14 when the sums are done – say little about who is buying what or why. Publicity tends to focus on new products, not necessarily the most popular ones. So, Lighting has been asking manufactures about their real best sellers, the products specifiers keep asking for and what they think this says about the market. Some have said the scale of a product's success has taken them by surprise, others that steadfast specifiers have helped them defy industry trends, especially those away from well-tried technologies.
Ours is a statistically minute sample and the accounts we have been given are anecdotal but, nevertheless, we have a snapshot of a market in which aesthetics play a part – even in areas traditionally dominated by technical and practical considerations, such as street lighting.
Specifiers take a risk when they select brand-new products but adding features and benefits to an existing range helps sales.
There is always room for the 'workhorse' product but the more versatile a fitting, the more likely it is to be used in an unexpected way, which can open up new markets or increase penetration.
Markets such as museums and galleries are undergoing change, which means lighting designers and specifiers are looking for ways to solve new problems or tackle old ones from a new angle. Ease of installation, long-term performance and energy savings all drive sales but as Ian Stanton of iGuzzini remarks: "What is also important for success when developing a luminaire is to develop the entire range."
Focus on museums: Concord
Havells Sylvania's best seller is its Concord Beacon Muse LED adjustable spotlight with on-board dimmer. The company has shipped nearly 1,600 units in the last 12 months from a total of almost 6,800 for the whole Concord Beacon range. The firm says: "It is not a spotlight for every application; it has been specifically created to provide museums, galleries and highend retail environments… which have specific requirements including varying beam angles, ultraviolet/infrared and radiation protection, energy savings and high colour rendering." The LED engine has recently been upgraded to boost light output and increase colour rendering to improve colour recognition, particularly at the red end of the spectrum. The luminaire's sales have also benefitted from accolades including the Lighting Design Awards Interior Luminaire of the Year Award in 2011.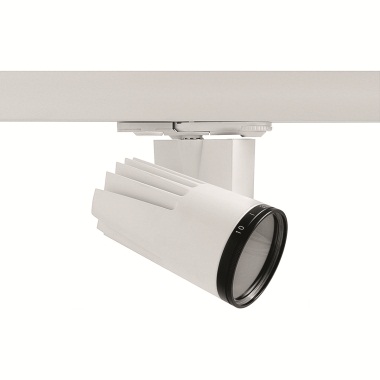 The Concord Beacon Muse LED spotlight from Havells Sylvania was designed for galleries, museums and luxury retail outlets
Lateral thinking: Artemide
"Kilometres of this product have been used throughout Europe," says Artemide sales manager Peter Price of its Algoritmo 40mm-wide, linear lighting system. It is mainly used in retail and hotel applications, surface mounted or recessed into walls, ceilings and floors with T5 fluorescents or LED as its source.
"Specifiers like such a thin profile solution, with the incentive to incorporate LED to achieve dramatic effects in a wide variety of applications and across new-build and refurbishment projects," he says. They are also "looking for highly flexible, visually innovative lighting solutions and they want to utilise T5 fluorescent, white light and RGB LED light sources in an efficient cassette-based product," Price adds. Algoritmo's modules can be linked vertically and horizontally using a connection system that includes pre-wired gear plates with through-wiring.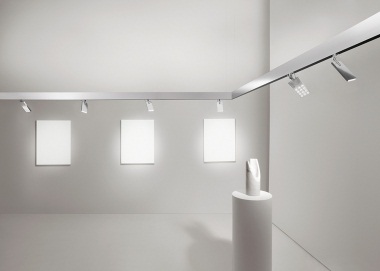 The design of Artemede's Algoritmo linear lighting system offers a great deal of flexibility when it comes to application usage, which has resulted in it being successful aross Europe
Driverless success: Aurora
"Aurora's flagship integrated fi re-rated downlight, the M10, has defi nitely been our best seller in recent months, selling in excess of half a million in the last year. As a result, we've expanded the range," says Aurora product manager Shyel Stark. The M10, shortlisted for a 2014 Lighting Design Award, has integrated LED downlights with dimmable, high-voltage LED sources that are powered by a driver-on-board chip and need no external driver or electrolytic capacitors. "On a daily basis, we see the specifier and contractor markets moving toward driverless technology,"
Stark adds. Customers are also "turning away from cheap LED products with poor glare or light-distribution control that are brought to market". The M-series' optics mimic halogen by offering a controlled, even light-distribution beam with high colour rendering and reduced glare.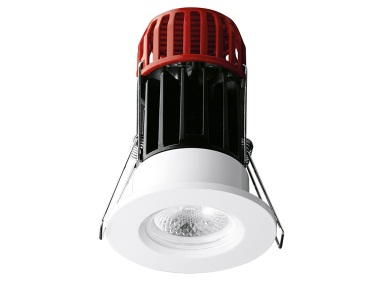 Aurora's superstar is the M10, its fire-rated downlight, which has exceeded sales of 500,000 and was shortlisted at this year's Lighting Design Awards
Street smarts: DW Windsor
DW Windsor says its best-selling product is the new Kirium LED road lantern. Its main selling point is its adaptability; it offers a choice of the number of light engines, optical distributions, colour temperature, drive currents and a universal mounting that contractors can use to fi x it to awkward brackets. A replacement for high-intensity discharge (HID) lighting it is said to offer energy savings of 71 per cent and can be centrally monitored, dimmed and switched. DW Windsor believes it is the first UK manufacturer in its field to offer Philips' higher efficacy Luxeon TX LEDs and says sales of the Kirium – which was "designed to blend in not stand out" – show growingdemand for more aesthetically pleasing street lights.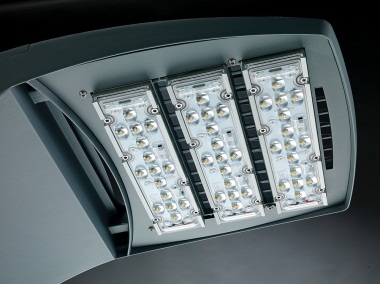 DW Windsor's popular Kirium street light was designed to be inconspicuous
Fine lines: ACDC
At 40 per cent and 35 per cent of sales respectively, downlights and linear are the most popular of the four LED luminaire types sold by ACDC, the others being flood and accent lighting. Its Azeta range of downlights competes with metal halide in applications from hotels to retail and commercial. Some 2,000 units were installed at Swedbank in Stockholm, the leading bank in Sweden, Latvia, Lithuania and Estonia. In terms of linear LEDs, ACDC's Blade, Fino and IGLu ranges shipped most in the past year, largely for architectural fa?ades, while Orelle was specified for retail applications. Blade and Fino nudge into the lead in terms of volumes shipped last year, which ACDC ascribes to their "versatility, low profile and powerful lit effect".
Well-publicised projects have helped sales. ACDC marketing manager Victoria Dobson says: "It shows that confidence in us as an innovative, specialist, global LED manufacturer remains, and demand for high-end architectural LED luminaires has not dwindled, with retail and hospitality markets making a comeback."
ACDC's biggest earner is its Blade linear LED
Fibre optic fight back: Crescent
Crescent Lighting says its biggest earner is the CRE040/070 LED fibre optic projector. The 36W or 70W versions producing 2,640 and 4,320 lm respectively from 1m of fibre, are used for cabinet spotlighting and downlighting, decorative fibre-optic pendants, exterior spotlights and pavers, and special applications. For museums, display, top-end domestic, decorative and other typical fibre-optic applications, it was introduced in 2011 as an alternative to 100W tungsten halogen projectors and some HID lighting. It helped "reinvigorate the fibre-optic market" for the firm, according to the firm's marketing manager Martin Perman.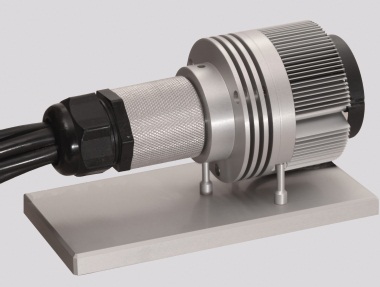 Crescent Lighting's biggest earner is its fibre-optic projector
Uplift in uplights: NJO Technology
NJO Technology sells approximately 2,000 of its RLX74 series exterior, in-ground, trimless, recessed LED uplights a year, for use in high-end private residential projects, hotels and public buildings. Its chief selling points are: a trimless finish, which can be customised to blend in with its surroundings; a choice of white, RGB and tuneable white versions and anti-glare louvre; and an on-board current regulation circuit that allows multiple fittings to be wired together in parallel.
Sales office manager Simon Tebbey says, "lighting designers are looking for smaller fittings that are less noticeable once installed – the trimless bezel on the RLX74 reduces the visible surface area of the fitting. They're also looking for better-quality light, even for outdoor architectural and landscape applications where colour rendering is typically less important than it is in retail or work areas. Lighting designers also want greater control over the light and how it's used – this is where good-quality optics and glare-control methods are important."?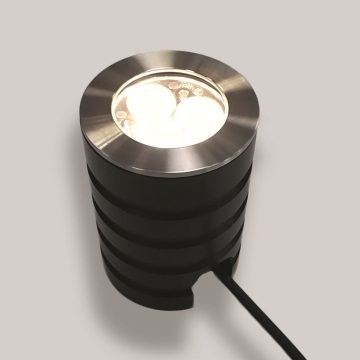 NJO Technology boosted its sales with its RXE74 unit
Upmarket downlighting: Lumenpulse AlphaLED
Lumenpulse AlphaLED's Imp Soft Round downlight is one of a range with high-end residential, retail and hospitality applications, selling about 15,000 units a year. A small, recessed downlight with a deep-set reflector, die-cast construction, glare-control secondary reflector and a small cut-out for halogen replacements, it is available in outputs of up to 2,000 lm, colour temperatures of 2,700–4,000K, colour rendering of up to 98Ra and medium or wide beam angles.
The firm's Eve Gaut attributes Imp's sales to diversity in the range plus the promise of no noticeable colour shift and a maximum of 5 per cent lumen loss across the complete installation after five years. When the Imp range was reviewed in Lighting in 2012, the company said: "The impression we got was that designers wanted a certain look and weren't prepared to move away from that for LED. The message was 'flexibility and creativity' and what we thought would be a simple downlight has expanded into many different applications."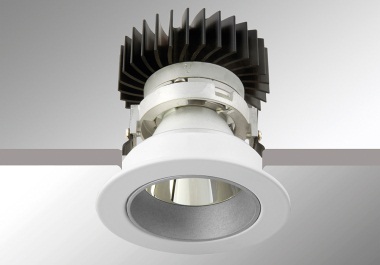 Lumenpulse AlphaLED opted to give the market flexibility with its Imp Soft Round downlight
Spot-on accuracy: Precision Lighting
Precision Lighting's Pico mini LED spotlight is widely specified for museums and galleries. It is often used to pick out details or individual items such as jewellery when the Pico Zoom's variable beam widths and the option of a stem version make it particularly attractive. The firm's marketing manager Simon Harrison-Wallace says: "There is a decline in fibre optics and LEDs are filling a void. There is a lot of equipment and gear that goes along with fibre optics but LEDs are getting more efficient and you can do a lot more with them now. We are also filling in for the halogen market now."
Despite its sales success, Pico is not a high-volume product; Precision is more concerned with quality than quantity and, as with other lines, it has a body that is machined, rather than cast, from aerospace aluminium to improve its thermal performance.
"The Pico is our smallest and lowest-priced product but it's not a 'budget entry point' nor is it a 'cheap' product. Our prices generally go up in relation to output but the entire range has the same features and benefits, such as ball bearing-assisted rotation, constant torque mechanism and lockability," says Harrison-Wallace.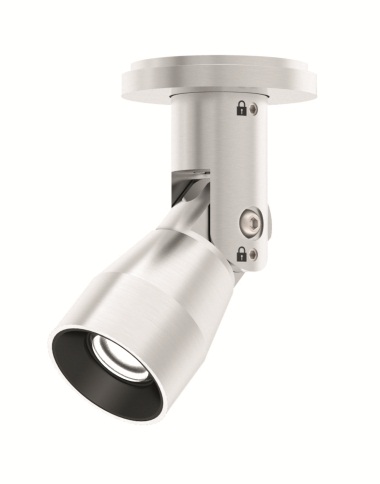 Precision Lighting boosted sales with its Pico Zoom
Away from retrofit: iGuzzini
"Fifty per cent of iGuzzini's turnover is achieved by products developed in the last three years," says Ian Stanton, sales and marketing director at iGuzzini Illuminazione UK. Launched in 2013, Laser Blade has already exceeded sales of £5 million this year.
"This is mainly because iGuzzini has thought hard about the use of LED light sources and, instead of fitting them into traditional fixtures, has developed a totally new form of downlighter," says Stanton. "The Laser Blade range is 100 per cent LED but what really makes it stand out is that it achieves a traditional circular distribution, as delivered by a normal downlighter, by using a slim recto linear form, thereby transforming the vision of the ceilings, making them more modern and clean. Also, the patented optics give a dark–light effect, reducing glare."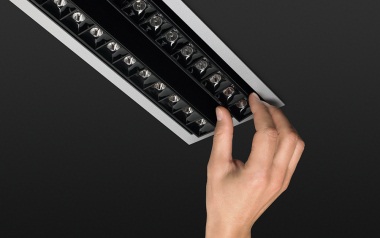 iGuzzini's Laser Blade is a popular choice
Raising the bar: Oldham
Oldham Lighting Projects' Rana-LED lighting systems is a rigid, narrow, high-output LED bar mostly used as concealed interior lighting and exterior fa?ade lighting in shopping centres, high-end offices, hotels, airports and some private residences. Roughly 25,000m are sold per year and sales have increased over the past two years says the firm's Becky Quinlan. Oldham attributes Rana-LED's success to its combination of high output and slim design – the smallest bar is 12mm wide – which makes it easy to conceal.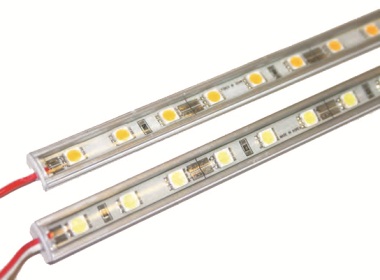 Oldham's high-output concealable Rana-LED system is hugely popular
Source:
http://www.lighting.co.uk/projects/what-are-the-most-popular-lighting-products/8666012.article?blocktitle=Most-popular&contentID=-1