Originally referred to as traditional Japanese bedding system, Futons are now seen as a part of living room furniture at most homes in various countries of the world.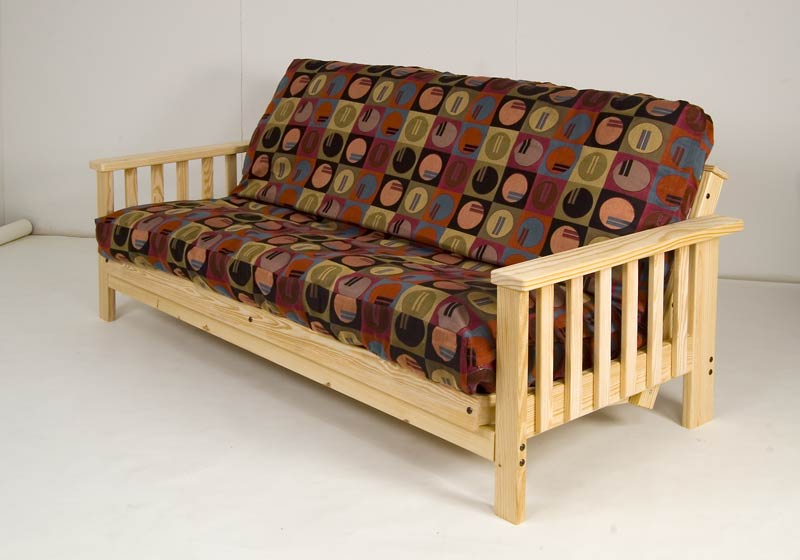 What is a Futon?
A Futon is actually a thin mattress of tufted cotton batting or similar material which is placed on a floor on a raised, foldable frame. In broader terms, a futon includes either the mattress, or the convertible furniture it sits upon, or both. The quality and styling of futon has dramatically improved since its first appearance.
Purpose of a Futon
A futon serves as a seating arrangement during the day and it can be converted to a sleeping space at night. It takes the form of a bed, couch, or chair, which provides a comfortable and sturdy space for sitting as well as sleeping. Some futon furniture comes with wood frames that can be stored in some other place to save space. Futons are widely popular in the furniture market, especially for students, apartment dwellers saving on space, and first-time home owners. But a futon can also provide handy lodgings for overnight guests, making the futon an ideal addition to any den or living room.
Styles of Futons
Futon bed is made from high quality hard woods, with your choice in a wide palette of wood finishes from oak to cherry to mahogany etc. Futon mattresses are made in such a way that they can be easily folded and stored away. The mattresses are usually stuffed with cotton batting. These futon mattresses are available in a wide range of colors, sizes and choice of fabrics. The back portion of the futon is actually the mattress and this is folded to form the shape of a couch. In order to be used as a bed, the futon is then unfolded. Many people who are accustomed to sleeping on a futon rave a lot about the good back support. Futon covers are available in luxuriant colors and choice of fabrics-from rich brocades to silk to cotton blend with varieties of designs on it. The futon cover give the entire room a totally new look.
Source:
http://www.furnitureforlivingroom.com/futon.html