Below is a case of an office lighting project with CNHidee LED panel light.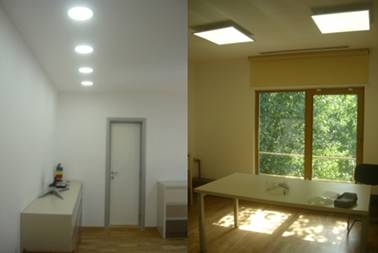 In this case, the led panel light is not only a lamp, but more like the nice decorative feature with soft lighting. The simple and elegant appearance emphasize the warm, quiet, elegant feature of the office.
The 600x600mm LED panel light use surface mounting installation in the office, keeping the integrity of ceiling.
To match with wall and ceiling color, chose the right color temperature, white ceiling with day light (5000k), and the yellow ceiling with natural white(4000K). Ceilings and lamps should be in Harmony and unity, just like nature itself. To archive spectacular looks of elegance, you must always pay extra attention to the ambience of the office, the general color theme of the office, furniture and the painting on the walls are key guides in choosing the right color temperature for your project.
Depending on the usage of the office space, you also need to pay extra attention to the brightness required for the office occupants to comfortably work in the office, should not be too bright, neither should it be too dull.
The nature of the ceiling will also dictate the nature of installation that you can adopt, for this case study, the ceiling was concrete and the best option for the installation was surface mounting. There are lots of other modes of installation including suspension and recessed modes.
Source:
http://www.led-search.com/news-view-1542.html