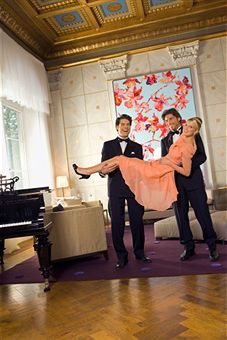 Those of you who would like to go green within the interiors can safely install cork laminate flooring in your house. Cork flooring is flooring made from a natural material, i.e. cork, that is harvested from the bark of cork oak trees without having to cut them down. This makes it one of the most environmentally friendly materials to be used in the home. There are numerous advantages of cork flooring, but on the downside, it is something that is relatively high maintenance. This is where cork laminate flooring comes into the picture.

Overview

Cork laminate flooring is simply cork flooring that is coated with layers of acrylic that makes the flooring more durable and safer to use in highly moist areas such as kitchens or bathrooms. This flooring is available in matte or gloss finish and you may choose either based on your preference. While natural cork flooring is relatively soft and spongy, cork laminate flooring is slightly harder. However, the fact that it is easy to clean and more resistant to damage from high traffic makes the latter a preferred choice within homes. Not only does it provide a natural, aesthetic beauty to the house, it does so without you having to put in extra work for maintenance.

Properties

While some of the benefits of cork flooring have already been mentioned above, there are several others that you should be aware of. There are also some negatives to this flooring type, and we will see these have been discussed below.
Cork laminate flooring is not only environmentally friendly, it is also a great material to provide sound insulation. Though this amount will be lesser than that provided by natural cork flooring, it still provides a considerable amount of insulation. It is quieter to walk on such flooring.

Along with sound, cork flooring also reduces the impact of vibrations that are caused by noise and movement.

Apart from sound, it also provides insulation against the cold. Keeping you warm through the winter, this material is definitely a great choice for the home.

Cork laminate flooring can be easily used as a basement flooring because of its insulation properties, as well as its resistance to moisture. While cork flooring itself is also known to be greatly moisture resistant, cork laminate only enhances the quality and does not allow it to get damaged due to excess moisture.

The durability of cork flooring is immense and heavy items can easily be placed on the flooring without damaging it. The laminated cork flooring in fact provides greater resistance from scratches and cuts on the flooring.

Cork has been used as a sub-floor in the past because of all its aforementioned properties. However, cork laminate can directly be used as a flooring in any area of the house, even in areas with high traffic. Its natural beauty lends the home a gorgeous rustic appeal that is relatively easy to maintain in comparison to hardwood floors.
If you are considering installing cork laminate flooring in your home, then the aforementioned properties should only enhance your faith in this product. Before you purchase it, the dealer will provide you all the necessary care and maintenance instructions regarding this product. Further, this product is available in many color choices and textures that will leave you spoiled for choice. It is definitely a choice worth considering if you wish to have green interiors and do your bit for the environment.
Source:
http://www.buzzle.com/articles/cork-laminate-flooring.html