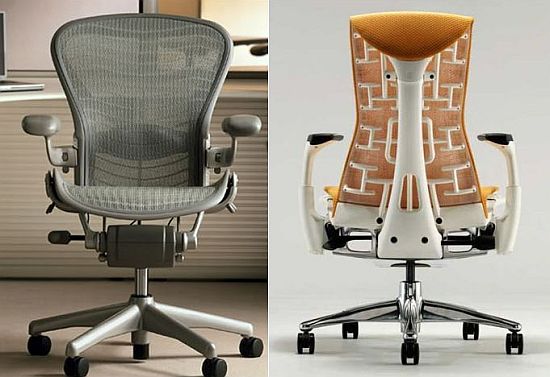 We have earlier seen the best luxury workstations and the best multimedia chairs for audiophiles, and this time we have the best ergonomic chairs for office executives. More and more time is spent sitting in front of computers than ever before. If your job requires you to spend all your working hours glued to your office chair, then you need to be extra cautious about the chair you use. Today, we have a list of Top 10 ergonomic chairs (no workstations) that would help enhance your efficiency and offer unmatched new levels of comfort and support. Check them out after the jump.
Verté office chair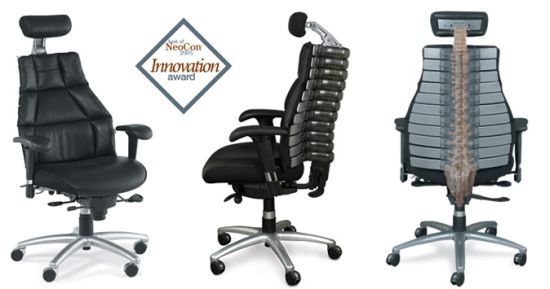 At first glance this office Verté chair might appear to be ridiculously over-engineered but rest assured all that hardware on the back of the seat has a real purpose. Each of those 11 sections is actually torsion spring-loaded bearing joints that are capable of taking an exact impression of your spine.
Pininfarina's Xten office chair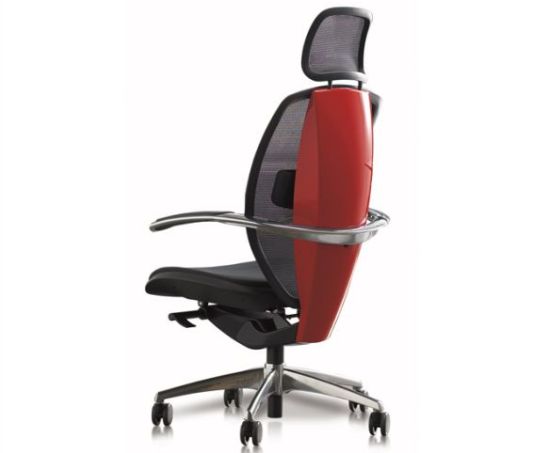 How would you like it if a chair came with a magic gel that would absorb all the perspiration and also reduce your fatigue by about 60 percent? Pininfarina's Xten office chair is one such magic chair.
Ferrari 360 Daytona Office Chair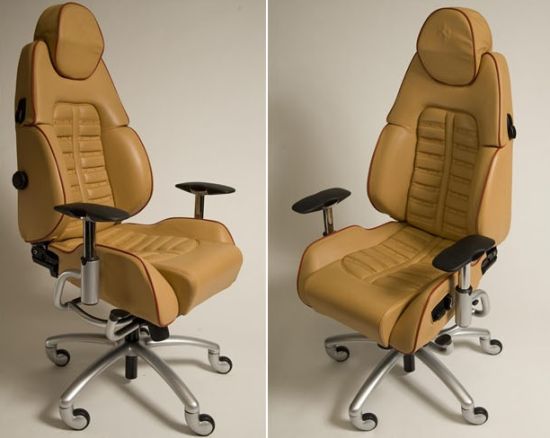 The Ferrari 360 Daytona Ergonomic Office Chair is meant for the racing enthusiasts. The smooth synchronous tilting action maintains constant contact and support for your body in all postures. There are sculpted shift levers at the side of the seat to control the synchro tilt mechanism and seat height.
Allsteel Acuity Chair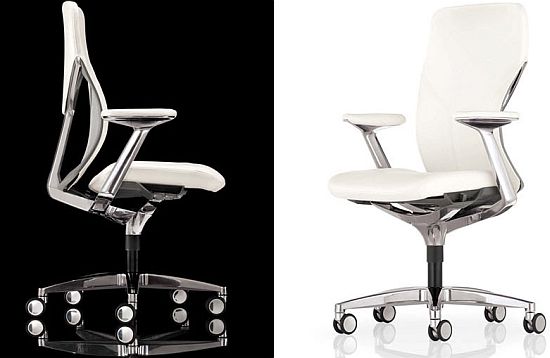 Designed in collaboration with Bruce Fifield of Milan-based Design Continuum Italia, Acuity is designed with Italian sensibility and Allsteel ingenuity. Its design and ergonomics work seamlessly while the controls are intuitive.
Doctor Riter's ErgoChair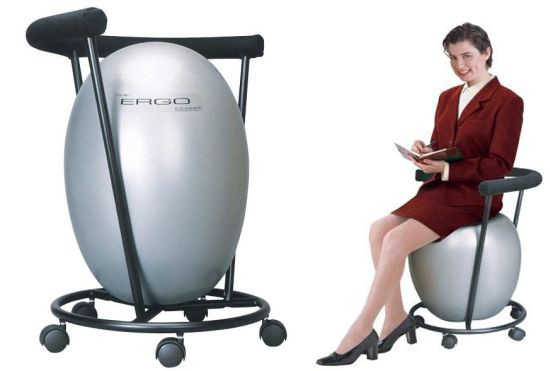 The egg-shaped ball of the ErgoChair does not compress discs in the spine, like a regular chair. This chair has been designed by a group of physicians, health practitioners and engineers in Switzerland to promote correct posture, to help strengthen the muscles in the abdominal area and the spine.
Leopard office chair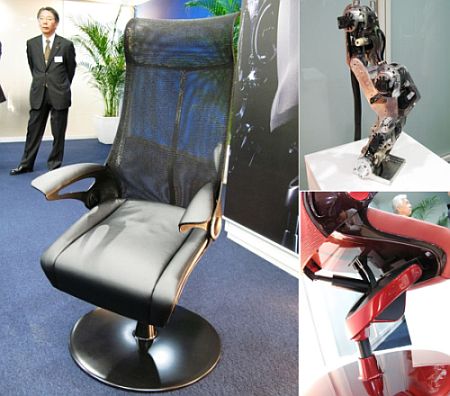 The innovative Leopard office chair functions very much like the real Robot Leg. When someone sits on this next-gen office chair, the seat moves back to a position where it fits the occupant's back perfectly and after he/she gets up, the seating surface moves with the movement of the occupant.
Humanscale Freedom Chair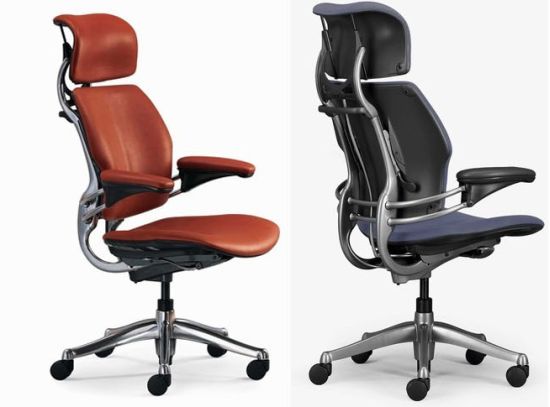 The Freedom chair's next-generation chair design uses automatic functionality instead of the locks and levers found on traditional chairs. This approach encourages users to change positions throughout the day without needing to operate manual controls, which ultimately promotes user comfort and health buy here.
Smartchair Biofeedback Computer chair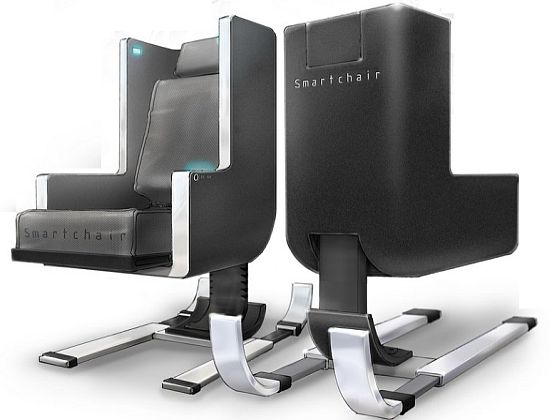 Designed by Jian Guan, it is the best revolutionary chair that goes beyond simply using pads and adjustable backs. It features an auto adjust system that is actually made of auto-adjusted spring formations and biofeedback sensors.
Aeron Chair by Herman Miller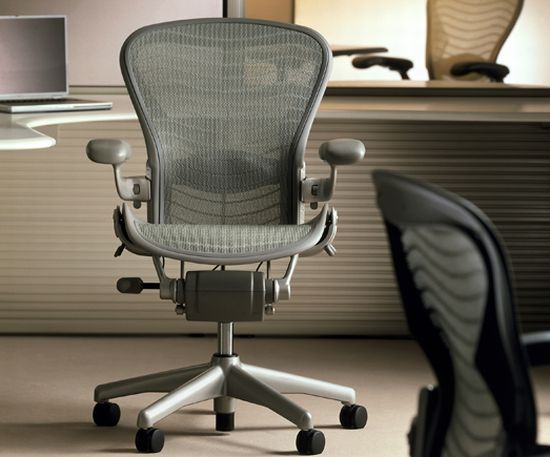 The Aeron Chair by Herman Miller is an award-winning ergonomic office chair with unmatched new levels of comfort and support. Aeron is the only chair with Pellicle suspension, a unique material that conforms to the body and distributes weight evenly over the seat and back for truly customized support.
Herman Miller Embody Chair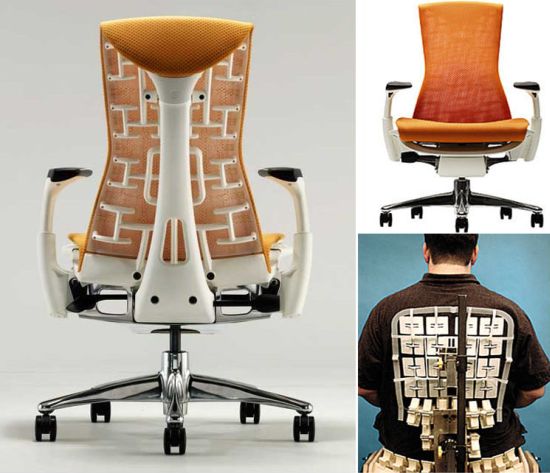 If you thought the Herman Miller Aeron chair was the top-dog place to park you posterior, take a look at this. Check out that high back to rest your noggin, with "flexors" strategically positioned to let your back rest easy.
Source:
http://www.bornrich.com/top-10-ergonomic-chairs-for-office-executives.html