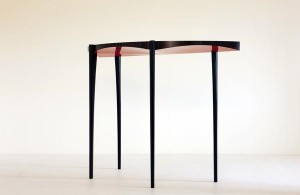 Exceptionally talented young British cabinet maker Thomas Jarrold is showcasing his work exclusively at urban living interiors during the London Design Festival 2014.
Tom, who only graduated last year has a skill and talent that belies his years. He has produced exquisite pieces, produced to the highest standards using only the finest materials. Tom puts his own spin on traditional shapes and styles, each piece has a clever and subtle element of surprise, giving his work a contemporary twist. He mixes different woods to great effect and often discretely adds a splash of red veneer to add interest and fun.
Thomas trained at Wiliams & Cleal Furniture School where he was mentored by some of the country's finest furniture makers. His extraordinary attention to detail, use of beautiful woods, sleek design, elegant and delicate veneers make him an exciting addition to British cabinet making.
"At this early stage in my furniture-making career, I feel inspired by the infinite possibilities and my head is bursting with ideas. So many things I want to make, so little time…." says Thomas.
We are excited to have found four up and coming young British designers during London Design Festival 2014. All the young designers featured are recent UK graduates and will be showing their own examples of the most stunning and individual new wallpapers, fabrics, glass and furniture.
"We are so excited to have discovered this incredible talent just as he's getting started. He only graduated last year and his work is stunning. We are sure he will make a big impact at the London Design Festival this year. There is something very special about him", says Mark Riese, Managing Director of urban living interiors.
Source:
http://www.furniture-magazine.com/news/article/thomas-jarrold-launches-new-products-london-design-festival-2014/