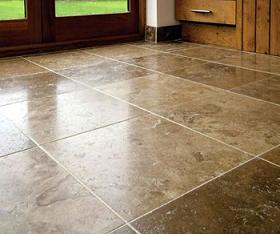 Stone kitchen flooring is ideal for some homes and lifestyles and adds an elegant and expensive look, but takes a bit more care than other options. There is a wide array of stone types and color choices so you can fit any decorating style and theme.
Is Stone Kitchen Flooring Right For You? If you like the thought of having natural flooring, consider stone. Each kind of stone flooring offers the consumer a different look, so it is important to research each of the choices to find the one that is right for your kitchen. You may find that the flooring choice you were once considering is not the best choice after all.
Using Stone in the Kitchen Stone flooring is a wonderful choice for any decorating style in the kitchen. Although many people think of stone as expensive and cold, it can actually be quite a pleasure for the feet and will last a lifetime after one investment. If you do find that stone flooring is too cold for your kitchen, radiant heat can be added during installation to help warm the floor. Using rugs or rubber flooring in areas where you stand to prepare and cook food also increases comfort.
What to Consider When Choosing Stone Kitchen Flooring: Consider how much traffic the area will encounter. Some stone flooring is quite soft. What activities take place in the room? If there is a potential for messes, certain materials can stain stone floors. What colors, shades, and textures suit you best? Each type of stone flooring has a unique look. Soft Stone Flooring Materials Marble in the kitchen is not usually a good idea. It is more susceptible to scratches and dents and is very porous so it may stain easily. Acid in fruit juices and vinegar will etch and dull the finish, so you must be sure to seal and clean it professionally every 9-12 months and tend to spills quickly.
Sandstone has variable durability, depending on the cementing material when it was formed. It tends to be pretty soft and natarl like cork floors, so it may not be the right choice for an active family. Sandstone tiles come in colors ranging from red to reddish-brown to gray, white, and yellow. Sealing sandstone after installation will make it more stain resistant and easier to clean up.
Travertine flooring definitely looks great in any kitchen. Being a cross between limestone and marble with a low porosity, it is a good choice for the kitchen. It is more porous with a honed finish, making it more susceptible to staining, and is sensitive to acidic items, so sealing is important. It also becomes extremely slick when wet, so a non-slip sealer applied after installation is wise.
Tougher Stone Kitchen Flooring Slate is a very tough flooring choice. Extremely durable and stain resistant when sealed, slate is excellent for use in the kitchen. Colors include red, green, brown, black and a mottled green. Dust shows more with a glossy sealer on a dark background than either a matte finish sealer or a lighter color stone.
Another hard stone flooring you may consider is limestone. It has a lovely non-slip surface and oil resistant properties, making it a good choice for kitchen floors. Its water absorption is almost nil. Its color range is soft beiges and tans. Though it's more resistant to water and oil than some other stone options, it should still be sealed to keep it at its best and to make it easier to clean and care for.
Granite tile is the hardest tile flooring available, and is able to withstand a lot of traffic. The highly polished stone is easy to clean, but if it gets too smooth it gets slippery when wet. The beautiful and spontaneous colors in the granite tile will make your kitchen into the showplace that you have always wanted it to be. Granite tile is also stain resistant and easy to clean.
Installing stone flooring in the kitchen will instantly add value and elegance to your home. If you are looking for a permanent flooring solution that will go with many different decorating styles, then stone flooring could be the choice for you.
Source:
http://www.contempofloorcoverings.com/blog/stone-kitchen-flooring.html