LMG has recently added the LightSlice, the ROE 7.5 MM, and the Hybrid to the firm's multi-million dollar LED inventory, now with over 15,000 LED tiles. Once heavy, expensive, and inflexible, LED has drastically evolved into a lightweight, cost-effective solution delivering stunning visuals across a range of resolutions and shapes.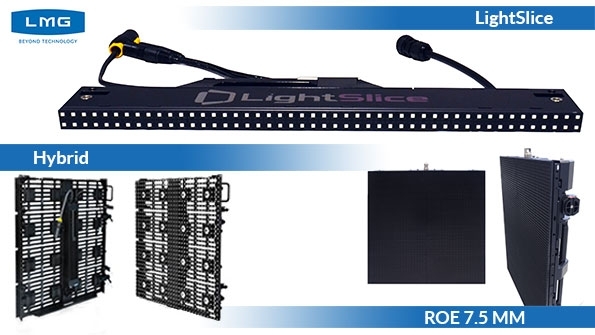 The Hybrid combines an 18 MM LED display with 150 MM LED spotlights integrated into each tile which allows for a display of lighting combined with video. The Hybrid's spotlights and 18 MM LEDs can uniquely stream individual content independently of each other presenting countless design opportunities for the ultimate show experience.
The 7.5 MM makes use of a revolutionary new black waterproof LED allowing for flexible, creative designs with fast and easy installation for on site operators. The 7.5 MM LED's contrast, lightweight form, and 2000Hz refresh rate.
By using magnets, the Hybrid or 7.5 MM joined with the innovating design of the Touring Frame offer the flexibility of an easy and completely mobile installation process for the LMG touring rental market. The lightweight alloys of the Touring Frame also provide an exclusive design that allows these LED products to be used for our clients' outdoor shows.
The LightSlice is a true 10 MM display ideal for indoor and outdoor events where creative video solutions are not limited to the module and panel format of standard LED screens. The LightSlice series includes 500, 1000, and 1500 frame sizes that offer 170 degrees of resolution customization and stunning video effects that compliment stage and set design.
"By adding the LightSlice, 7.5 MM, and Hybrid to the LED inventory, our clients have an innovative flexibility to mix and match products designed to add a rare and creative element," Doug Eldredge, Director of LED Services.
Source:
http://www.led-search.com/news-view-4305.html