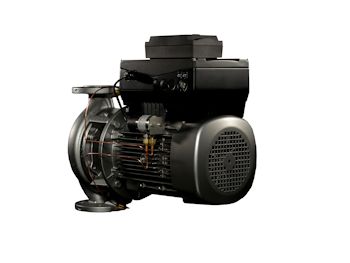 This summer with VariA, Biral is introducing a completely reworked range of inline pumps onto the market. Gaps in the range have been closed and hydraulic efficiency increased.
The operation of the AQVatron frequency converter, which is also new, has been adapted to the familiar Biral mode. Today the customer will therefore find the same service usage philosophy from the smallest AX, A and ModulA to the VariA-E and will thus save a great deal of time, which might otherwise be spent on familiarisation.
The AQVAtron complements the VariA (together, known as the VariA-E) perfectly and provides the user with a variety of additional options. The 68 types, from DN32 to DN150, are divided into versions Red, Green1 and Green2. These have been optimised for the respective areas of use, which vary due to temperature range and proportion of glycol in the medium.
The AQVAtron can be ordered installed on the motor or with an appropriate wall mounting holder with 3m cable length for the new VariA-E. This gives the freedom to place the frequency converter where it is most accessible. The customer can therefore select the version of the VariA that it s actually required. Uncontrolled or controlled, with frequency transformer built in or separate, with or without differential pressure transmitter.
Like all wet-running pumps, the VariA-E has the familiar Biral control panel. The light display gives an overview of the most important information for setting the pump at all times. LEDs give a view of the type of operation and stage set, and provide information on the range of the volume flow without time-consuming and expensive flow measurements. The Biral impeller signals messages for operation, readiness, warning and alarm via a rotating light display. As is already the case with the ModulA, the new AQVAtron frequency converter has a WLAN interface for the Biral remote adapter for communicating with the Remote app. The familiar Biral ModuA interface module, BIM for short, can now also be used for the VariA-E.
Source:
http://impeller.net:80/magazine/news_en/doc7368x.asp