Miller Sports Properties today announced plans for a new center court high definition video display system that is seven times larger than its predecessor, includes upper deck corner boards with video and statistics, audio system improvements, and other digital enhancements for EnergySolutions Arena, the 19,911-seat multi-purpose home of the Utah Jazz.
"We are pleased to bring a new visual experience to our live sports and entertainment events with the high-definition imagery of the new video board system," said Steve Miller, president of Miller Sports Properties. "The fan experience at EnergySolutions Arena will change significantly, showcasing the world's best basketball players in a dynamic and entertaining game-time presentation as well as providing enhanced visuals and sound for concerts, family shows, dirt shows and more."
Utah-based YESCO, an industry leader with LED displays from London to Las Vegas, has been selected to manufacture and install the custom-designed and integrated system, whose primary component weighs about 55,000 pounds. Anthony James Partners served as consultants in the design and procurement of the system. Installation of the new video and sound system is scheduled for completion by October for the 2013-14 Jazz basketball season.
"It is exciting to partner with a local, family run business that has become one of the world's largest digital-display manufacturers and has the expertise to deliver a system of the scope and quality we want," Miller said.
"We have the greatest respect for the Miller family and everything they do for this community," said Ryan Young, vice president of YESCO Electronics. "The opportunity to partner with them to provide a state-of-the-art video system for EnergySolutions Arena is a dream come true. This project represents a huge commitment to provide the best fans in the NBA with one of the largest and most advanced video screens in the league."
"We have a long association with the Larry H. Miller Group of Companies and are honored to provide the latest video display technology for the EnergySolutions Arena," said Mike Young, President and CEO of Young Electric Sign Company.
A new rectangular-shaped, center-hung scoreboard with twin 1080p HD screens is 42-feet-long and 24-feet-high and runs along the length of the court. The 720p HD end screens facing each baseline measure 26-feet-long and 17-feet-high for 2,900 total square feet. By comparison, the current standard-definition 10 x 10 foot boards, installed in 2001, total 400 square feet.
"Our organization is committed to building a championship-caliber team and providing fans with a great arena experience," said Randy Rigby, president of the Utah Jazz. "The new video displays will change the way people watch basketball with the availability of replays, statistics and entertainment along with the live, in-arena atmosphere generated by the best fans in the NBA."
Another prominent feature of the video display system will be the installation of four auxiliary video boards in the corners of the EnergySolutions Arena upper bowl, measuring 37-feet-long and 12.5-feet-high with the capability of showing video highlights and in-depth information such as basketball game statistics.
Two LED light rings – one new and another upgrading the existing electronics -- will encircle the arena fascia between the upper and lower bowls. An LED space ring will encircle the top of the center-hung video unit. Courtside patrons will benefit from the inclusion of two screens located on the inside of the primary side screens allowing them to look up, underneath the video board, for an easy sightline to what is being displayed. Digital signage also will be featured on the inside portals of the arena and on the floor behind the basket in padded, portable units. Operational elements of the system are integrated for both unique and all-in-one programming.
An upgraded audio system will complement the new video system providing a range of high- quality sound for concerts and shows, improving the clarity of announcements throughout the arena, and further enhancing the patron experience for all entertainment events at EnergySolutions Arena.
"Our arena has been part of the Salt Lake City downtown footprint since 1991," said Jim Olson, chief operating officer for Miller Sports Properties. "With these visual and audio improvements, we believe EnergySolutions Arena will continue to attract marquee concerts, shows and sporting events that contribute to the economic vitality and enhance of the quality of life in this region."
Advanced-technology features and specifications of the new video display system include:
Center-hung Video Boards: Two, HD primary side screens which are larger than 1080p, 24' x 41.3', 1152 x 1984 pixel matrix; two, HD primary end screens, 16.67' x 26', 800 x 1248 pixel matrix; two, ventral screens, 9.3' x 16.67', 448 x 800 pixel matrix Space Ring: 10mm, LED one-sided ring above scoreboard, 5' x 327.17', 144 x 9664 pixel matrix Upper Bowl Auxiliary Boards: Four, 10mm LED corner boards, 12.46' x 36.83', 368 x 1088 pixel matrix Light Ring: Two, 20mm LED fascia displays, 2.7' x 830', 40 x 11,952 pixel matrix (1), 40 x 12,256 pixel matrix (1) Vomitory Sign System: Twenty, 10mm LED displays, 1.63' x 10.83', 48 x 320 pixel matrix Court-level Kickplate LED: Four, 10mm LED displays in padded portable unit on baseline, 1.0' x 22.75', 32 x 672 pixel matrix.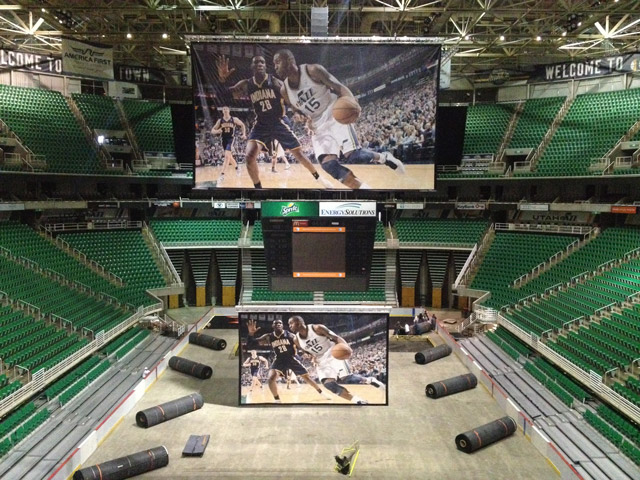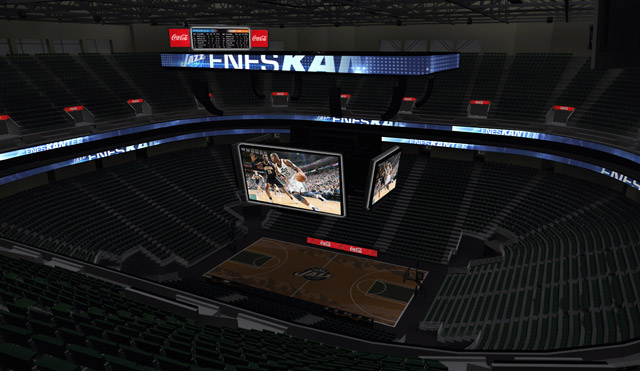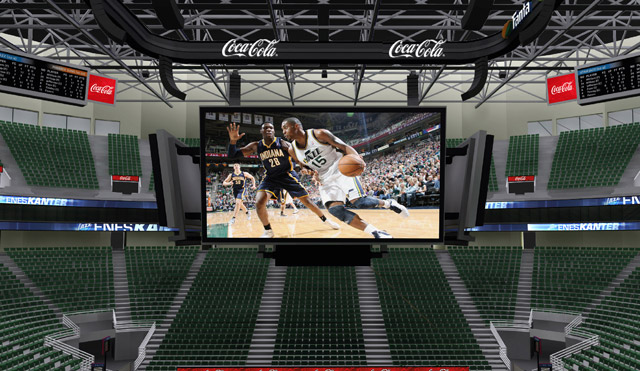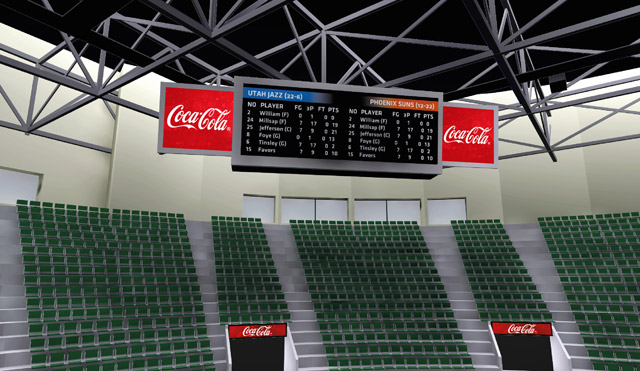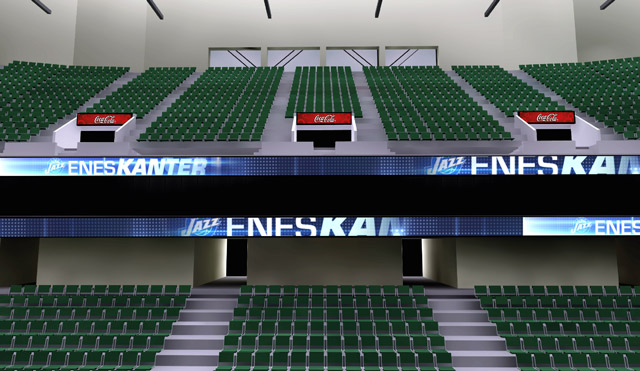 Source:
http://www.led-search.com/news-view-1909.html