We all can feel like a Hollywood star. Check out the bright, bold and trendy designer and fashion luggage collections from Irv's Luggage. These affordable luggage collections feature top name designers who have selected the latest colors and fabrics for suitcases of all sizes. Who said luggage has to be dark and blah? Spruce up your travel and let your true personality shine. Whether it's the exotic leopard print bags from the Adrienne Vittadini Luggage collection or the bold striped luggage sets and bags from the Jenni Chan Luggage collection, everyone can be a fashionista. And everyone can be a luggage diva, regardless of your travel destinations.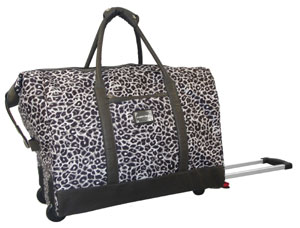 You will be ready for any adventure with this unique looking bag.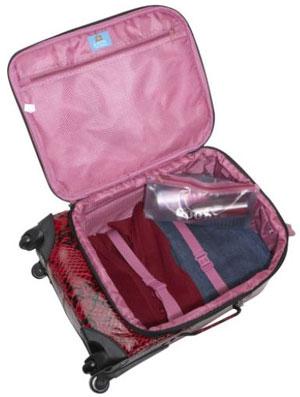 Your clothes and items stay neatly organized in the luggage.
Adrienne Vittadinihas always been a popular name in fashion. It's great news for travelers that she has now used her taste and style to design her own collection of luggage. The Adrienne Vittadini Leopard Collection 20″ Wheeled Weekender Paisley Leopard lets you show your wild side, but still giving travelers the functionality they crave. This carry on luggage is the perfect size for short trips and weekend getaways. Your personal travel accessories will stay neatly organized in the bag's many internal pockets.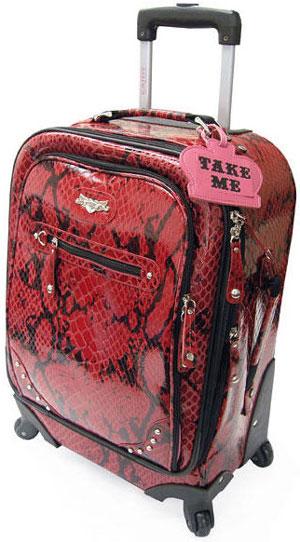 The red snakeskin exterior screams style and fashion.
Another excellent choice is the Kathy van Zeeland Luggage collection. Kathy has gained a reputation in the fashion world for her eloquent designs and detailing. The Kathy Van Zeeland Bohemian 20″ Carry On Expandable Spinner is one of the sharpest carry-ons out there in the travel world. The glazed snakeskin-finished exterior is available in red or brown and it will continue to look glossy and sleek trip after trip. If you are looking for more bling, then you must take a look at the Kathy Van Zeeland Monte Carlo 28″ Expandable Spinner.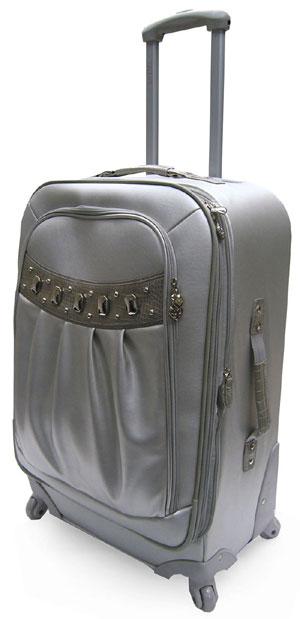 Heads will turn when you wheel this stunning silver bag through the airport.
The silver luggage is embellished with silver studs and hardware on the front. This bag is so sharp you will look for an excuse to get away and use your bag.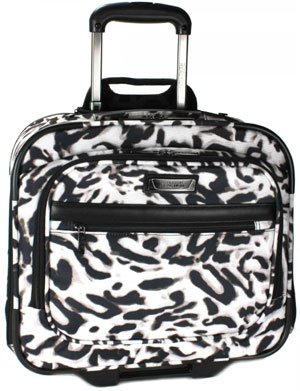 Through your things in and hit the road for weekend adventures withe his wheeled overnighter.
Add some exoticism to your trip with the Kenneth Cole Reaction Savageur Collection. These pieces are available in 21" – 29" as well as a wheeled carry-on. The animal print exterior has been specially treated to provide protections from water and outdoor elements. While durable on the outside, the luggage is luxurious on the inside. The cases are all fully lined with plenty of zippered pockets to keep you organized. This bag certainly won't blend in with the other luggage at baggage claim area. My favorite is the weekender. Not too big. Not too small, but just the right size for those fast and furious last minute getaways.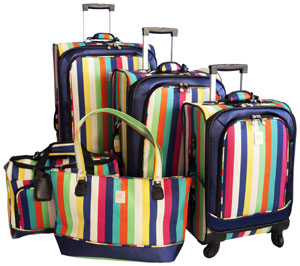 This collections has a bag for long trips, short trips, weekend trips and everything in betwee.
Still looking for more punch? Then the Jennie Chan Luggage is just for you. The vibrant, multi-colored luggage will boost your spirits even when travel fatigue sets in and you tire of airline food. You will never have to worry about having the right sized piece when you go to pack. These luggage sets include different sizes to give you the most packing options. The Jenni Chan Multi Stripes Collection 5 Piece Luggage Set even comes with a computer tote. You will wow your fellow travelers and become a trendsetter. Enjoy!
Source:
http://blog.irvsluggage.com/index.php/business-technology/feel-like-a-star-with-the-latest-hottest-designer-and-fashion-luggage/#respond